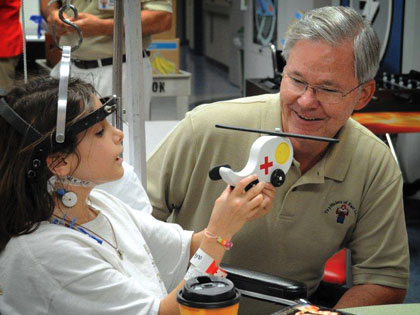 Enlist volunteers to create special gifts for children in difficult circumstances.
Volunteers from your church can bring smiles to the faces of hospitalized children, abused and neglected kids, and others by creating and delivering handmade toys.
Between 40 and 50 volunteers representing ages from 14 to 93 participate weekly in the ministry ToyMakers of East Lake at East Lake United Methodist Church in Tampa, Fla. Volunteers build handcrafted toys and distribute them to hospitalized kids, abused and neglected children, day care centers, and others with the goal of providing "smiles one toy at a time."
ToyMakers' President Bob Helms recalls delivering toys to Tampa General Hospital's pediatric rehabilitation center, where an 11-year-old girl had a metal helmet held in place by screws in her skull. A rope ran to a bar above her wheelchair and kept her neck stabilized. Although she had much to be discouraged about, she was thrilled when volunteers came to distribute the toys.
"I asked her if she had come there in a helicopter," Helms says. "When she said 'yes,' I asked her if she'd like a toy one." The girl's face lit up, and Helms was able to connect with her during a difficult time, he says.
"We are passionate about putting a smile on a child's face when they are in a traumatic situation," Helms says.
ToyMakers of East Lake began in 1982, when Jim McCullagh learned that his grandchild didn't have toys to play with in the hospital. He partnered with a friend to make simple, colorful wooden toys that were distributed to the medical center and then to Ronald McDonald Houses. As word-of-mouth grew, more people became involved, and in 2007 the church provided ToyMakers its own building.
"It's a labor of love," Helms says