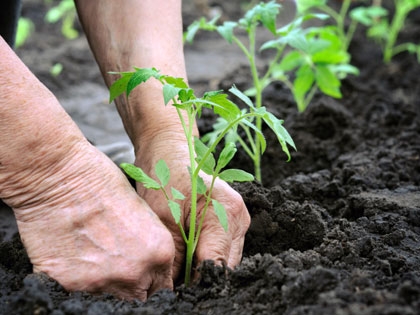 An Oregon church produces thousands of pounds of food for the local food bank, senior center and a women's shelter.
Rick Hillsinger was in the middle of weeding one day last year when a car full of women pulled up and parked in the road. The women got out and just stood there, looking at the garden.
Hillsinger went over and spoke to one of them. As the group got back into the car, she gave him $40 and said the garden was "good work."
It was like an if-you-build-it-they-will-come, Field of Dreams moment. This isn't your garden-variety garden. It's a half-acre of corn, tomatoes, peppers, potatoes, green beans, beets, squash, watermelon, cantaloupe, and scads of other fruits and vegetables on five acres of open space on the grounds of Grace Baptist Church in Dallas, Ore., which townsfolk have started calling "The Food Church."
What started as a casual planting experiment three years ago has caught fire with many in and outside of the church, making the Grace Baptist community garden a plentiful resource to the tune of nearly 4,200 pounds of produce in 2008, much of it going to the local food bank, a senior citizens center and a battered-women's shelter.
In 2009, Hillsinger, the church's pastor, says Grace Baptist wants to provide 10,000 pounds of fruit and vegetables. A steady stream of spontaneous donations like four truckloads of manure, a well, and irrigation lines and lots of elbow grease courtesy of church members young and old have made that goal quite attainable.
Of course, when passers-by hand you cash from their car windows and people like the German-Baptist Brethren ladies from a neighboring farming town show up every week to work in their long-sleeved dresses and little white bonnets, you know something's happening in the community that goes beyond physical nourishment.
"It's just been amazing," Hillsinger, 56, exclaims. "I came here six years ago as the 'turnaround' pastor. The church had a bad reputation in the community because of all the conflict, and the attendance was down to 15 adults and four children."
But with the advent of the garden, the church has been brought back to life with 75 attendees each Sunday and is extending that life to others. And not just through the community garden, but through acts like turning the church into a homeless shelter last winter when it snowed two weeks straight and getting youth involved with fundraisers and clothing and food drives year-round through the church's Mission Kids ministry.
"If we can give them physical food and spiritual food," Hillsinger says, "that's fine with me."