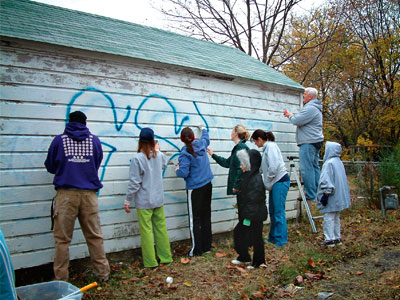 Churches Help Low-Income Residents Wipe Out Graffiti
Midland Heights United Methodist Church and First United Methodist Church, both in Fort Smith, Ark., are partnering with their city to help low-income residents overcome graffiti vandalism.
The city requires homeowners to remove graffiti from their property within 10 days or pay the city to do so. Most victims are law-abiding citizens who want to obey the city's policies, but they aren't financially or physically able to do so, says Janice Sudbrink, First United Methodist Church's associate minister.
Now, city officials provide graffiti victims with contact information for the churches. When called, Sudbrink and Becky Neighbors, a Midland Heights member who helped start the ministry, visit a site, take pictures and put together a team that usually eradicates the graffiti within a week.
A small grant from the First United Methodist Foundation and donated materials from local businesses make the ministry possible.