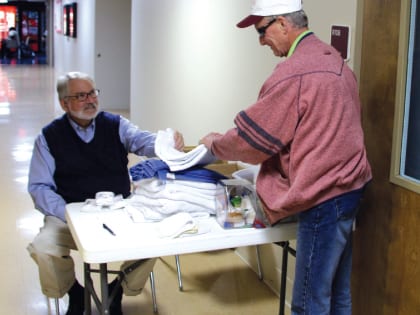 First Baptist Church in Chattanooga, Tenn., Offers Practical Help to the Homeless
In August 2014, Charles Holt, a homeless man in his 40s, came to First Baptist Church in Chattanooga, Tenn. He received a hot shower, clean laundry and a haircut, all of which helped him land a job a week later.
Today he renovates homes and lives in one of them while he works. He volunteers to "give back" to the ministry and leads the laundry portion of the weekly outreach.
It all started in 2012 when three college students from the congregation returned from mission trips where they saw a shower ministry and were moved to create something similar.
"They came back convicted about the importance of showers for the homeless community," says Herb Hooper, a life deacon at First Baptist who oversees the outreach.
According to Hooper, First Baptist had a large building and a gym, but no showers. An architectural firm prepared a quote for installing eight showers at $106,000—a frightening number in the economic climate and with a church of "middle-class people."
But the students took the lead, raising $15,000 in grant money while a church endowment supplied another $10,000. Church members stepped up and a year later the facilities were in place, including three sets of washers and dryers.
Each week about 15 people take advantage of the showers and have their laundry done. Around 30 people get haircuts provided by a local cosmetology school and another volunteer offers massages.
Lay people from the church of approximately 250 in Sunday attendance rotate shifts and befriend those visiting. Many stay around for a weekly dinner and devotions provided by a local interdenominational service ministry. Some of the homeless attend church on Sundays and receive a warm welcome.
Hooper says those friendly interactions are invaluable in shaping church culture. "It's given us an appreciation for other people and changed the way we view others."