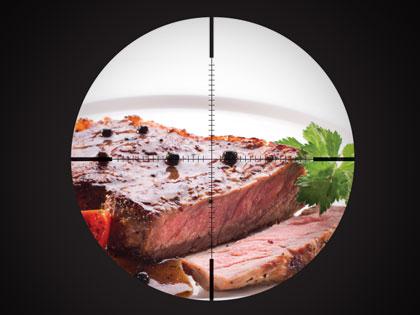 Connect with hard-to-reach men by holding a special event with exotic meats like lion or boar.
To reach unchurched men in its community, Hydesville Community Church in Hydesville, Calif., started a wild game dinner that features exotic meats like African lion, Burmese python and wild boar. The dinner is followed later in the year with a shooting and fishing retreat.
"We've ministered to cowboys, ranchers, sodbusters and political leaders that rarely darken church doors," Associate Pastor Jeff Beltz says of the ministry's success at connecting with men.
The dinner costs $60, and Christians must buy two tickets and give one to an unchurched friend. Hundreds of prizes are given away, including guns, fishing gear, archery supplies, and guided hunting and fishing tours. Grand prizes include expensive rifles and ATVs. The stage is covered with trophy mounts, and a guest speaker shares the Gospel. Each table has private servers from the church.
James Houlton had been a self-described "anti-Christian" with a sailor's mouth and a mean streak. But as a hunter and timber faller, he couldn't resist a co-worker's invitation to the church's wild game dinner.
Soon after, Houlton attended church and committed his life to Christ. Today he joins other timber workers for times of prayer and devotion each day before work.
To help other churches, Hydesville Community also created the ministry Christian Outdoorsmen.