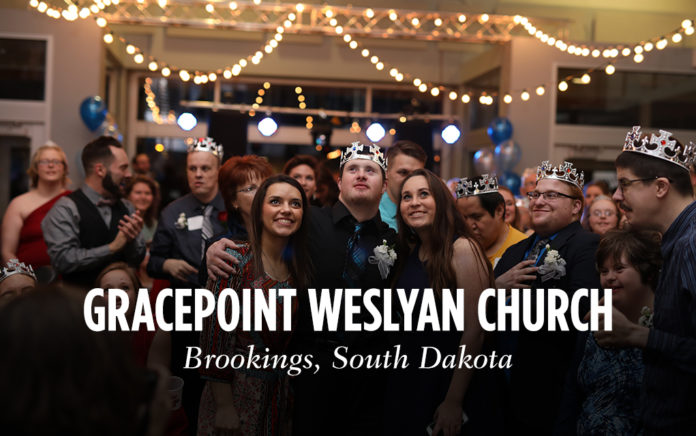 GracePoint Wesleyan networks with smaller local churches to reach South Dakota.
In South Dakota, towns are often separated by dozens of miles of ranches, farmland, empty grassland or mountains. The state is the fifth least densely populated in the country.
But that hasn't stopped GracePoint Wesleyan Church in Brookings, on South Dakota's eastern border with Minnesota, from finding ways to carry the message of Jesus to others. At about 1,700 attendees on average, GracePoint isn't a small church, but it's not a megachurch, either. What it has done is use the resources God has given it to find ways to network with other churches in its denomination to multiply the church in other cities across its state. It's a model for multiplication that GracePoint has fine-tuned over the years through trial and error.
"Since I've been here, there have been three other church plants in Minnesota and Indiana we've been involved in that didn't do so well," says Lead Pastor Steve Norby. "It was a very different kind of model, where they just go and do their thing, and maybe we send them money. We didn't have a relationship, and it was very difficult. You're probably going to fail as many times as you succeed, and you've got to be OK with that. You can't quit. It's just the nature of the thing. So now we're asking, how do we do this in a way where we can provide good support and relationship without being controlling?"
The church knew that for it to be successful it needed to focus its efforts closer to home.
"We have a philosophy: here, near and far," he says. "We try to do the fully orbed New Testament missional kind of approach, but we feel like our backyard is becoming our mission field more and more. That's why there's this emphasis [on networking with churches in their own state] these last few years, because we are basically becoming an unchurched culture. We have a burden now to really say, we need to be involved with the 'near' part of this thing tremendously. The advantage is that you understand the culture really well. You can go in there, quickly get invested and get going."
At the same time, Norby says, they didn't want to just plant campuses that would become mini GracePoints. Even planting in their own state meant there would be quite a distance between locations, in towns that are different from one another. A one-size-fits-all approach wouldn't work. They decided, instead, to develop a model that's a hybrid of a hands-off church plant (like their first attempts) and a multisite model.
Their current model is a multiphase process that has GracePoint working with a few very small churches and incorporating a lot of GracePoint's DNA as the new church becomes established. In Phase 2, GracePoint is more hands-off but still offers some focus, organizational support and leadership. By Phase 3, the smaller churches should be completely self-sustaining, although Norby says their networking relationship would continue.
"We're there just to further the kingdom," he says. "We want them to be autonomous works of God that then become networking centers themselves. We're just beginning this, but that's our dream."
And though they have big dreams of reaching more and more cities in their state with new or revitalized churches, they're going slowly, making sure they can fully support those churches they do choose to network with. GracePoint isn't a big city megachurch. But it's still found ways to take advantage of its context, location and resources to slowly, steadily, populate its state with healthy, thriving churches.
"Anything healthy reproduces," Norby says. "That's just a basic life principle. So I think church planting or church multiplication should be a natural outcome of health and vibrancy of the church."
—Jessica Hanewinckel
Read More Church Profiles Here »
GRACEPOINT WESLEYAN CHURCH
Brookings, South Dakota
Lead Pastor: Steve Norby
Website: GracePointWesleyan.org
Founded: 1960
Denomination: Wesleyan