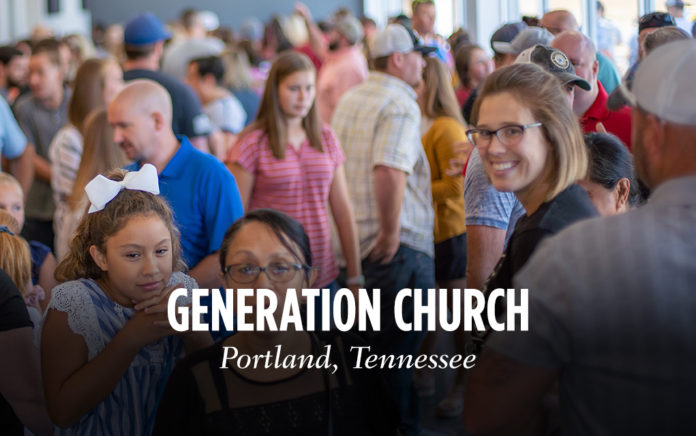 Tennessee church offers a new beginning.
Generation Church in Portland, Tennessee, goes after unchurched and de-churched people with a passion. "In 2010, there were 13,000 people in this community and 10,000 of them were unchurched," said Pastor Brandon Petty. "There was a spiritual vacuum here, and I knew it was the right time and place to launch the church."
Petty had a difficult upbringing himself, filled with abuse and dysfunction. "The story of this community is my story," he says. "I have empathy for people in pain, and I wanted to create a safe place for people to deal with those things."
Generation Church seeks to provide a community for hurting people. "We want to resurrect family trees and help people start something new in their families," Petty says. "Half of the families in our congregation are dealing with some sort of brokenness, whether it be abuse, divorce or addiction. They need to feel supported in this pain and find ways to restore relationships for the next generation."
One way the church offers this support is through their small groups. "People can sign up online for a small group based on their needs," Petty says. "We have groups for abuse victims, blended families, single moms, young parents and people in recovery. It offers a private way to ask for help."
Folks can also share their stories anonymously on the church's website. "I've learned that telling your story causes the pain to lose its power over you," Petty says.
Generation Church is in a rural farming community outside of Nashville, Petty says, noting, "We are the most diverse church in the community. We've fought hard to break down racial barriers. We are generationally diverse as well. Thirty percent of our congregation are children, and half of our staff are people in their 20s."
Petty used to ask himself how he could become a better leader for his church, but he realized that wasn't the right question to ask. Now he asks, "How can I become a better follower of Christ?"
He breaks his job into three roles: the lead teacher, the visionary and the leadership development person. "I don't want to give them a fish when I can teach them to fish for themselves. I can hold a Bible study, or I can teach them how to study the Bible. I want to show people how to spiritually lead themselves."
Juan Baltazar is the 23-year-old creative and production coach at Generation Church. Obviously, his job has become even more important since the start of the pandemic, but he still says the church has given him more than he's given them.
Baltazar started attending services in November 2015. "I was a freshman in college at that time. I felt empty inside, and I was using drugs and alcohol to fill the void," he says. "A friend invited me to go to the gym with him, and Pastor Brandon came with us. He invited me to their church. I went and I couldn't believe how much I loved it there."
He attended regularly until he transferred to another university. "The church was too far away to attend every week, and I fell back into my old ways," he says. "I ended up in the hospital and I called Brandon. I felt ashamed, but he just prayed for me. He loved me and never looked at me any differently."
Baltazar decided to leave school and move back home. Just weeks later, Petty invited him to join an internship program at the church. He was hired on full-time in September 2019. "I never dreamed I'd end up working in ministry," he says. "But now, I work to give people the same wonderful experience I had the first time I came to Generation Church."
Baltazar's parents and sister now attend services regularly. "It was a powerful moment when my family came to church," he says. "I wanted that more than anything, and I'm blessed that God led us here."
—Diane Stark
Read More Church Profiles Here »
GENERATION CHURCH
Portland, Tennessee
Lead Pastor: Brandon Petty
Twitter: @BPettyGC
Website: GenerationChurch.me
Founded: 2012
Affiliation: Baptist – Other
Locations: 1
Attendance: 1,055
Growth: +435 (70%)
Fastest-Growing: 17