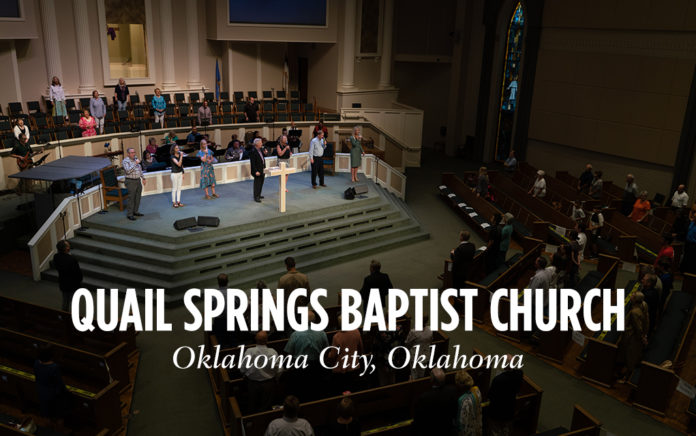 Outreach-oriented Oklahoma City church is serious about spiritual growth and community.
A relative newcomer to Quail Springs Baptist Church—having joined the staff a year-and-a-half ago—Senior Pastor Stephen Rummage has observed what makes the worship community so dynamic. The Oklahoma City church has grown over the past year, he says, because of its focus on outreach, robust network of small groups and fellowship opportunities and a new leadership that has enhanced what was already a healthy church.
"We're very outreach-oriented," Rummage says. "We have a vision for reaching the entire Oklahoma City metro area, to invite more people to our church. We have an outward focus."
In a business district filled with office and apartment buildings, Quail Springs has attracted lots of young professionals to its services, but Rummage says the church wants to serve all demographics, not just the "white-collar types." Even those churchgoers recognize their privilege, though, and are eager to meet other people's needs as they follow Christ. Some are so determined to help their communities that they have even downsized their homes, moving to more modest residences in less-affluent areas as they consider what God wants for their lives, Rummage says. Congregants visit homeless shelters, distribute food to schoolchildren and participate in literacy ministries.
Throughout the COVID-19 pandemic, Quail Springs has used its online worship services to lead people to Christ and continues to seek ways to strengthen its digital presence, especially its small group ministry. During the state lockdown, the church learned to become more flexible and fluid, Rummage says.
In addition to the pandemic, pastors throughout the country haven't been able to ignore the civil unrest sparked by the outrage over the killing of George Floyd.
"As a congregation, we stand for racial justice, and we stand for the value, dignity and worth of everyone," Rummage says. "When we see that being violated, especially in the African American community, we've got to raise our voice and express what the Word of our God says about justice."
As the United States experiences a period of transformation, Rummage has encouraged his congregation to commit to pray for one person and search for opportunities to share the gospel. Robb Neuschaefer, who has attended for 16 years, says that Quail Springs is a church that prioritizes such undertakings.
"We are equipped and encouraged to share God's love with others," he says. "We are encouraged to reach our city, state, country and world. As individuals mature both physically and spiritually, they are provided opportunities to go on mission trips across the United States and even internationally."
Bart Newsom, a member since 2016, says the church has kept him grounded in his spiritual walk and provides an environment that stretches his faith. A deacon, youth leader and camp sponsor, among other roles at Quail Springs, Newsom says his relationships there challenge him to spend consistent time in God's Word and be active and accountable in his walk with the Lord.
The church, he says, has grown because of spiritual community and service opportunities. There's also its "foundational commitment to God's Word," he adds, "and the consistent communication that our role is to be obedient and active in service to the world around us."
—Nadra Kareem Nittle
Read More Church Profiles Here »
QUAIL SPRINGS BAPTIST CHURCH
Oklahoma City, Oklahoma
Senior Pastor: Stephen Rummage
Twitter: @StephenRummage
Website: QSBC.org
Founded: 1950
Affiliation: Southern Baptist
Locations: 1
Attendance: 1,975
Growth: +189 (11%)
Fastest-Growing: 95