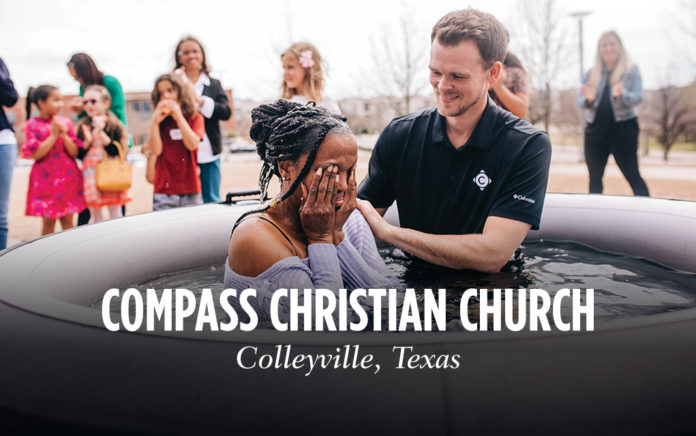 Authenticity and connection define the Compass Church family.
In the blink of an eye, the world changed because of a global pandemic. And, just as quickly, churches were forced to adapt when large gatherings became prohibited. But the team at Compass Christian Church in Colleyville, Texas, was ready. For the past four years, they have been broadcasting services to the masses each week through their online campus.
"We had this idea that church can be anywhere," Lead Pastor Drew Sherman explains. "We encouraged people that their first invite doesn't have to be to one of our physical locations—it can be online. That really prepared us for this, and I think that has really helped us grow our church over the past few years."
So, meeting the logistical needs wasn't going to be a problem; the true test would be how to continue to foster engagement at a church that thrives largely because of its familial, authentic appeal.
"There's a relational component to Compass that's really hard to describe," Sherman says. "When everything was stripped bare, especially during COVID-19, I think personal authenticity has stood the test of time—being vulnerable and exposing your heart to people by allowing them to see the things you struggle with."
He adds those qualities have enabled leadership to meet the spiritual needs of their growing church body during a difficult few months. "People can get good content and teaching anywhere. Going forward, we have to make sure that authenticity and relationship are central to the DNA of our churches—to show that we have a heart for our community and for outreach."
For many multisite churches, the communal aspect can feel disconnected due to the physical distance, but the team at Compass found a unique way to make each campus feel like a part of the family.
"We have live voices on every campus," Sherman says. "The pastors write messages together, so the message is consistent and constant, but there's an opportunity to hear from the heart of the communicator who's in front of those people each week. And it brings a certain relational quality to every campus."
Nate Massey can attest to the family atmosphere at Compass. As a struggling alcoholic, he was invited to the church by some friends at a time when he was near rock bottom. It was there that he heard the gospel for the first time on Easter Sunday 2015.
"There was always something that prevented me from taking the next step," Massey says. "Pastor Drew kept saying, 'You need to have courage,' and it felt like he was speaking directly to me. So, I decided to get baptized that day."
He was certain his life would change when he accepted Christ, and a campus pastor prayed over him, asking God to heal him of his alcoholism. From that moment on, he never had a desire for alcohol again, and Compass became his home.
Massey got involved in a discipleship program soon after and discovered God was calling him into ministry. He attended Bible school and recently accepted his first position as the lead pastor of a church in McKinney, Texas. He says he owes Compass a debt of gratitude for coming alongside him on his journey.
"God chose Compass to be the church that helped bring me into the kingdom and grow my faith," he says. "They are truly sending me out into the ministry."
Stories of life change, discipleship and relationship are common at Compass, Pastor Sherman says, because they have a simple, identifiable, reproducible mission statement: "Navigating People to God."
"At the end of the day, people still love great worship, solid communicators and kids' ministry," Sherman says. "But a place where they can know others and be known is more important than the big-box experience."
—Meredee Berg
Read More Church Profiles Here »
COMPASS CHRISTIAN CHURCH
Colleyville, Texas
Lead Pastor: Drew Sherman
Twitter: @drew_sherman
Website: Compass.church
Founded: 1966
Affiliation: Independent Christian Churches
Locations: 4
Attendance: 6,095
Growth: +426 (8%)
Fastest-Growing: 71
Largest: 59