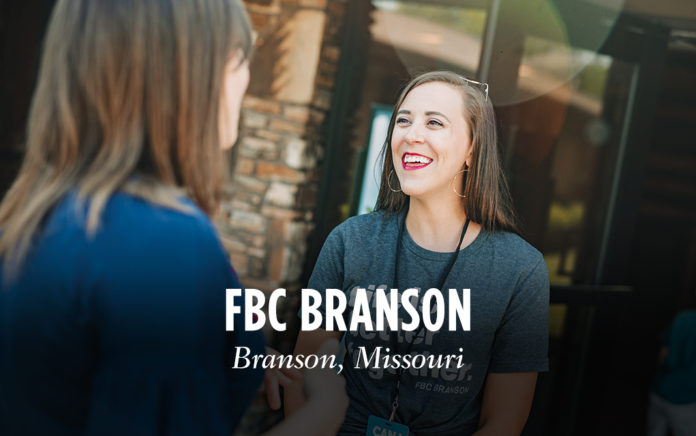 Missouri church takes Acts 17:26 to heart.
In decades past, Branson, Missouri, was a little music city that attracted lots of visitors, especially tour buses full of retired folks from across the country. Today, Branson still sees its share of seniors, but more and more, it's growing to attract a new demographic: young adults. Over the years, entertainment, shopping and dining options in the city have grown, and so too have the number of college students, outdoor enthusiasts and young families.
FBC Branson is a multigenerational church that reflects its community's demographics, and over the last year and a half, has taken off in terms of growth.
Jeremy Thomas became lead pastor of the church in July 2018 after starting as worship pastor. Any time there's a new pastor, people might visit out of curiosity, he says, but he doesn't think the church has grown so much in the past year just because there's a new, younger guy speaking on Sundays. Instead, he credits good senior leadership that has empowered up-and-comers.
"I think what we all saw happen is incredible leadership that was passed on to the next generation," he says. "A central piece of this story is that the previous generation did not fumble that baton. They placed it firmly into the hands of the next runner whom they raised up and trained."
Equipping the next generation of leaders ensured that when Thomas stepped in, he was fully prepared to lead FBC Branson into its next chapter. Along with the church elders, Thomas has been intentional about casting vision around two things in particular that he says have contributed to growth: loving neighbors and authentic community.
"All of us have neighbors, and we need to learn to see the connection between the gospel and our mailing address," he says. "Acts 17:26 says that God ordains the times and the places that we will live. Man, it's pretty cool when a pastor gets that. But it is city-changing and history-making when the church gets it, sees it, lives it. Churches impact their city for Christ one neighbor at a time. I think our church has begun to take that seriously."
In the past year or so, the church has divided a $20,000 gift among its members and had them bless someone in the community with it. They minister to local incarcerated men and their families. They give backpacks to school kids in the fall, and Christmas presents and food to local families in need.
When it comes to authenticity, Thomas uses the metaphor of a doctor's office versus a job interview; church should be like the former. People shouldn't have to feel like they're putting on a mask to come to a place where it's OK to not be OK.
"It's so exhausting to be fake and act like your life is great when it's not," he says. "We just began culturally to say, What would it look like for us to change our ethos in that way?"
Now, Thomas says, the church is big on storytelling. They celebrate successes together and are honest about their weaknesses. He encourages church members to actively share testimonies about how God is impacting their lives, and the lives of those in the community. And they do.
Jason Robinson is a member of FBC Branson, along with his wife and kids. Together, the family serves on the greet team and the kids ministry; Robinson has even preached during service before. He says authenticity and an outward focus are the real deal at the church.
"It's not something we're doing for lip service or outward appearance," he says. "It's something that has to do with the heart of the people, and it is just so contagious. I would say that the seeds for growth were planted three or four years ago, and we just got a vision for what the Lord's heart is inside of our community. And people want to be a part of that. They want to understand why it's taking place. At the heart of that authenticity is Jesus, and people are drawn to him."
—Jessica Hanewinckel
FBC Branson
Branson, Missouri
Lead Pastor: Jeremy Thomas
Website: FBCBranson.com
Founded: 1943
Affiliation: Southern Baptist
Locations: 1
Attendance: 1,413
Growth: +159 (13%)
Fastest-Growing: 91