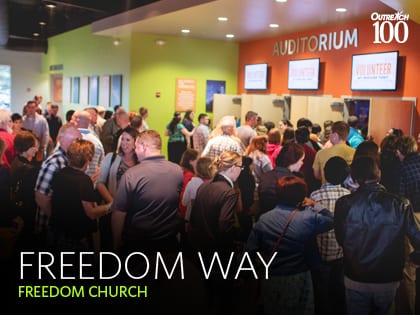 Freedom Church Intentionally Creates a Culture of Anticipation
Rudy and Kandice Adams were on the brink of divorce. They were living in separate homes and didn't attend church. When teens from Freedom Church in Acworth, Ga., came door-to-door, passing out cookies and issuing invitations, Kandice reluctantly agreed to give the church a try.
"I'll never forget the warmth when I arrived in the parking lot," says Kandice. "I saw Christ in them that day."
Two years later, they and their two children have given their lives to Christ and their marriage has been restored. They are involved in small groups, serve in major volunteer roles overseeing dozens of other volunteers, and their daughter, Raven, is headed to El Salvador on missions. They are one example of hundreds whose lives have been changed.
"It's one of my favorite things," says Freedom's pastor J.R. Lee. "I could talk all day about the changed lives we've seen."
Freedom Church launched in 2008 with 50 people including kids. "Pregnant women counted as two," Lee says. Meeting in a school at the end of a dead-end street that Lee describes as a wonderful facility in a terrible location, church members needed to "invite others like their lives depended on it."
"With no drive-by traffic, we had to invest and invite," Lee says. "And that DNA has stuck."
Today the church is in a permanent facility, sees approximately 1,700 in weekend services and is planning a second campus in the next six months. When asked the keys to their success, Lee mentions two ideals.
"First, we believe preparation precedes provision," Lee says. The leadership at Freedom works hard to stay ahead of the growth curve and purposefully envisions where the church will go next. They then put people and systems in place as if they had already arrived. Instead of responding to growth by recruiting volunteers, they recruit volunteers so they are ready when growth occurs.
"We reverse engineer," Lee says. "We prepare in advance for what we're asking God to do."
The second ideal is creating a culture where vision can thrive.
"Culture trumps vision every time," says Lee. "Every pastor should have vision, but many times the culture of the church doesn't allow the vision to be carried out."
The "Freedom Way" is a set of culture-driven values that are kept in front of church members at all times—displayed prominently in church literature and facilities. With values such as "We expect the unexpected" (setting lofty goals), "We are not in the catering business" (concern with reaching rather than keeping people), and "We've got your back" (honoring others), the 10-item statement defines the culture at Freedom and teaches members the "why behind the what." Cultural tenets shape and reinforce the vision at Freedom.
"It permeates everything we do," Lee explains. "For example, our culture calls us to honor others, so instead of just parking first-time guests, we meet them at their cars and walk them in."
Believing that God desires to reach their city as much as they do, Freedom is purposeful in cultivating strong relationships with community leaders including the mayor and members of the parks and recreation department. The church has participated annually in the Acworth Egg Hunt, worked with the city on canned food drives and partnered with them in hosting a Halloween carnival.
"We want to do all we can to show our community that Jesus and Freedom Church loves them, whether they attend church or not," says Freedom's Operations and Outreach Pastor, Todd Lollis.
One of the Freedom Way tenets is, "We are never finished—we are grateful for what God has done in the past, but now, 'God, do it again.'" In talking with Pastor Lee, it comes across loud and clear: the future at Freedom Church is even brighter than the past.
"We are going to work like it depends on us, pray like it depends on God and give him all the glory for the results," Lee says. "We are partnering with God in something he wanted to do long before I was born."
FREEDOM CHURCH
Acworth, Ga.
Senior Pastor: J.R. Lee
Twitter: @JrLee
Website: FreedomChurch.tv
Founded: 2006
Affiliation: Southern Baptist
Locations: 1
Attendance: 1,533
Growth in 2013: +798 (109%)
Fastest-Growing: 10