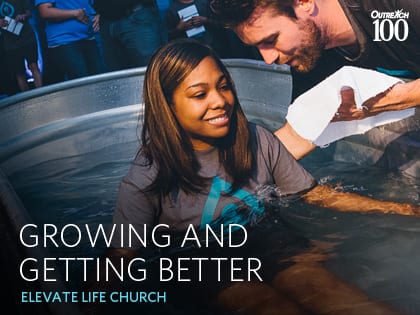 Elevate Life Church Grows to 1000+ in Less Than Four Years
Brian Jones, 33, admits that back in 2011, he was reluctant to visit Elevate Life Church in Orange Park, Fla., just outside of Jacksonville. That year his wife began visiting the church after meeting a member at a tailgate party.
"She loved that it was young families," Jones recalls. "We had a three-year-old, and he loved it, and that's where she started serving—in the children's ministry."
Over time, Jones, a former Catholic, decided to visit the church.
"The first time I went, I loved Pastor Tim's message," says Jones. "That was the thing that stuck out to me because I had never heard anyone relate the Bible that way."
The Rev. Tim Staier, 34, pastor of Elevate Life Church, presents messages on everything from grace, faith and redemption to marriage, parenthood and finances. He credits the church's growth to a culture where members are encouraged to share their faith and bring visitors to church.
Because space is limited, the church has now expanded to five Sunday services with the addition of meeting times at 4:30 p.m., and 6 p.m. Staier says they encourage members to attend afternoon services, freeing up the morning for first-time visitors and members with guests who are most likely to visit during that time.
"We challenge our people to look at their church experience not through the lens of, 'Is this what I like?' or, 'Is it convenient for me?'" explains Staier, "But rather, 'Are we doing what we need to do to reach people with the gospel of Jesus, those who have fallen away and those who are lost, hurt, broken and unchurched?'"
Staier says that while Elevate Life is growing today, he and his wife, Kristal, struggled for two years to plant a church.
"We honestly didn't know what we were doing," he shares. "We had churches that were sending us out and encouraging us, but we didn't have any training."
In January 2010, the Staiers attended workshops offered by the Birmingham-based Association of Related Churches (ARC), which gives church planters support, guidance and resources. Afterward, the couple launched Elevate Life Church on Oct. 10, 2010, with a Sunday service at a local high school in Orange Park where nearly 200 people attended. He says that ARC taught them the importance of being teachable and self-aware.
"We consistently bring people in to look at what we're doing and bring fresh eyes on it," he says. "And we've been a part of different church growth networks to submit ourselves to the process of growing and getting better."
Since opening, Elevate Life Church has held services at the high school, but now they are raising $1.5 million to build a church in Orange Park's Oakleaf community. Much of Elevate Life's membership consists of young families with children, and subsequently, the church has invested heavily in the eKids ministry, which serves infants through fifth graders with animation, skits, interactive games and Bible lessons.
Another ministry, eGroups, is a small group ministry offering Bible studies and other activities. "They've been a huge part in not just being able to draw people," he says, "but in helping people grow in faith and become people who draw others, serve and lead groups."
Months after his first visit to Elevate Life, Jones says he accepted Christ and became an active member. He joined the church staff in 2013 and this year the church named him as Connections Pastor, overseeing eGroups, membership classes, ushers, greeters and security.
Staier says that the church's mission to reach the lost has caused him to learn to embrace a statement he once overheard a minister say: "You have to choose who you lose."
"To me, that means we're committed to the one," shares Staier. "And if that means one of the 99 chooses to move on because the shepherd is out looking for the one instead of hanging out with them, we're willing to lose that. We're not willing to lose people who are the farthest away and most in need of grace and the gospel."
ELEVATE LIFE CHURCH
Jacksonville, Fla.
Lead Pastor: Tim Staier
Twitter: @timstaier
Website: ElevateLife.tv
Founded: 2010
Affiliation: Nondenominational
Locations: 1
Attendance: 1,180
Growth in 2013: +315 (36%)
Fastest Growing: 50