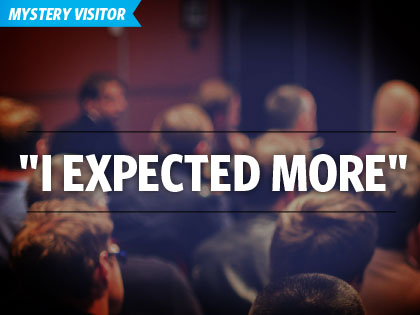 An unchurched person reports on an unannounced visit to a local church. Could it be yours?
A 40-something male visits a 300-attendee church in Dallas/Fort Worth, Texas, on Dec. 29, 2013, at 10 a.m.
OVERALL SCORE
* *
What was it like when you entered the building?
When I entered the church, a boy of about 16 handed me a bulletin and two people said hello. In my opinion, the welcome could have been better.
* *
Was it obvious where the children's ministry was located and that it was clean, secure and well-staffed?
The children's church was a good point of the church. The creativity in the children's room made me feel comfortable leaving a child in their care. Children would have fun and enjoy being there. The website also described it in great detail.
* * * *
Did you observe anything that would lead you to believe that the church values diversity?
Diversity is the church's weakness. Both genders were equally represented, but the church had a small number of young people and one racial group in attendance. Some were happy to meet with me, as I am from an Asian background. I did not see anything special that illustrated an effort to attract people of various groups and backgrounds.
*
Describe the service.
The music was mostly traditional. The musicians, vocalists and choir members were sincere, and their body language was really admirable. The music mostly suited an over-40 age group. During the service, the pastor gave a formal greeting. Although they requested visitors raise their hands for prayer, I did not participate. It would have been better if they had recognized the new visitors formally from the pulpit in a more organized way. The 20-minute message was interesting and appealing. I easily grasped the point based on the life of Caleb during the time he inherited Hebron. The moral was "always make good choices in our lives." The pastor was well prepared, confident and looked comfortable. He used PowerPoint slides through a projector.
* * * *
Overall, how friendly would you say the church was to you during your visit?
I expected a more friendly and welcoming environment, although I do not think this church was unfriendly.
* *
Would you return to the church?
My overall experience was not very good. I may return to meet more people or to make something of the introductions I received while there. I would say this church is probably better for older people, especially those over age 50. I would tell people to go so they could have their own experience.
*
Adapted from a report provided by Faith Perceptions, which has evaluated more than 3,500 worship services across the United States. Visit FaithPerceptions.com.