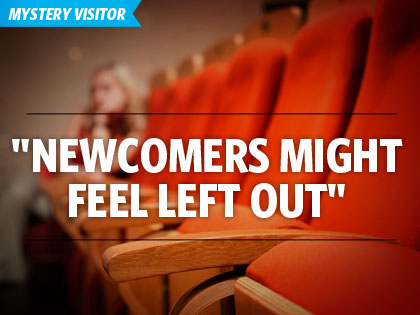 An unchurched person reports on an unannounced visit to a local church. Could it be yours?
—A 20-something unchurched female visits a 1,000 attendee church in Oklahoma City on a Sunday morning
OVERALL SCORE
***
What was it like when you entered the building?
A kind and sincere gentleman greeted me. Everyone was comfortable and friendly before the service. They talked to each other, but no one addressed me. If newcomers are shy, they might feel left out. I was unsure of what to expect, mostly because I had never been to this type of church before.
****
Was it obvious where the children's ministry was located and that it was clean, secure and well-staffed?
I saw no signs for a church nursery. Before the sermon, they said something about the children. This led me to believe they had a children's ministry. About a dozen children left with two women, but most of the children stayed in the church. Based on the lack of information available, I would not let my child go to the children's ministry until I had further information on where it was located.
*
Did you observe anything that would lead you to believe that the church values diversity?
They are a diverse church serving different races and age groups. They offer services in Spanish, financial assistance to those in need, have a school, and post information about their donations.
*****
Describe the service.
The vocalist sang traditional hymns throughout the service. I enjoy contemporary music and do not prefer this type of music. The singer was sincere and very good. A majority of the congregation sang along with him. The pastor gave a formal greeting. He was sincere and it felt appropriate for this type of service. The message focused on the coming of the end of the world. He encouraged us to be watchful and prepared to turn our hearts to God so we will be loved by Him in Heaven. The pastor spoke for approximately fifteen minutes. The message was fairly easy to understand, relevant and somewhat enjoyable. The pastor was well spoken, comfortable and easy to understand. He shared a story about his childhood and how he was raised to believe in God, which tied into the message.
****
Overall, how friendly would you say the church was to you during your visit?
This church was friendly, but they could work on making newcomers feel welcome. If a face is unfamiliar and that person is alone, saying hello and shaking the person's hand is a nice greeting.
**
Would you return to the church?
No, mostly because I did not know what was going on during the service. I did not understand many of the words and prayers because I was not raised in the same faith. If I knew someone of this faith, however, I might tell them to try this church.
*
ADDITIONAL OBSERVATIONS
Was the Nearby Community Aware of the Church?
The clerk at a convenience store down the street did not know of the church or where it was located. He did say he was new to the area.
How was the Seating?
They had spacious seating with plenty of pews that were fairly comfortable. The back of every pew had a kneeling pad for prayer. Everyone sat comfortably close to each other; some were by themselves, but most were sitting next to someone else.
How Was the Post Service Atmosphere?
Everyone was in good spirits after the service and were friendly as they left. The pastor visited and shook hands with the remaining people in the meeting hall.
How Would You Rate the Information Resources?
I give the church a gold star for how they informed people of everything they offer or were involved in. Their bulletin shared the upcoming week's events, worship times and types, school information, donations to date, prayer lists and missions. Their website was just as thorough. They provided a downloadable bulletin link and posted the daily readings. They also had a "Contact Us" tab, where you can leave your contact information.
What is Your Overall Impression?
It was a well-kept, spacious and diverse church. They do need to post more signs that direct people to the basics like the bathrooms and nursery. I would suggest the church encourage the congregation to welcome new faces and guests. For people like me who had never been to a church of this faith, but was interested in learning more about it, the church could provide a pamphlet that explain the rituals and prayers.