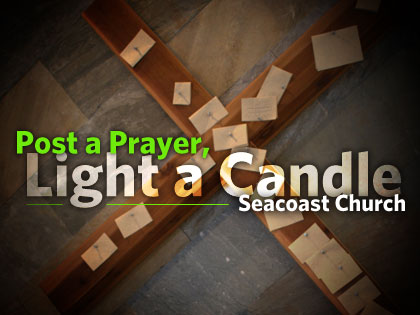 Seacoast Church Brings Live Elements to Online Campus
Through its interactive online ministry, Seacoast Church in South Carolina has managed to reach unbelievers, couples in crisis and more. Participants don't just passively watch sermons on the church's website, but instead engage in the same activities they would if they attended a Seacoast worship service in person. That includes lighting candles, taking communion and posting one's sins to a virtual cross.
"It's a private note," says Seth Farrior, Seacoast's Internet campus pastor, of the posting of sins. "They go online. They flip up a sticky note with their prayer request on it or confessing sin and they hit the button. It looks like it folds the piece of paper and puts it onto the cross. Then it comes into an email, and we pray over them."
Farrior says there's nothing "magical" about the process. The church simply designed its online ministry to be interactive, which is why someone who's concerned about a family member who doesn't know Jesus can light a candle for the relative on the website and pray for them. Participants hit a button, and the candle online lights up.
In addition to these features, those in need of live prayer can participate in a chat room featured on the Seacoast website. The church's online ministry also includes a small group, which online participants experience via a private chat room.
"We just tried to mirror what we're doing at our physical location," Farrior says. While many participants of the online ministry include Seacoast members who've moved away or have work conflicts that make it difficult for them to attend church in person, Farrior says Seacoast also attracts a fair number of unchurched people with no connection at all to Seacoast.
"We have prayers for healing, suicide and depression," Farrior says. Accordingly, people who've searched Google because they're dealing with such issues often happen upon Seacoast's online ministry, he adds.
"The majority of people who come here [online] are new every week," Farrior says. "That's who we reach for—we want the atheists and the unbelievers. That's who we target."
SEACOAST CHURCH Mount Pleasant, S.C.
Website: Seacoast.org
Senior Pastor: Greg Surratt
Founded: 1988
Affiliation: Nondenominational
Locations: 11
Attendance: 12,000