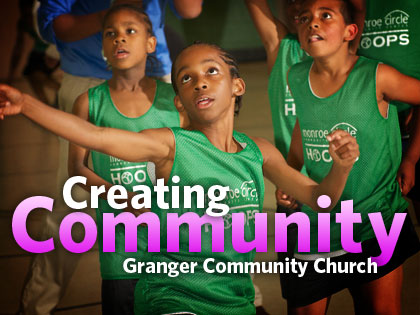 Granger's Community Center Becomes Lifeblood to Hurting Neighborhood
Ask LeRoy King to share a success story from the inner-city Monroe Circle Community Center he directs on behalf of Granger Community Church, and he points to a couple from the Granger, Ind., megachurch who has unofficially adopted a single mother and her four children who frequent the center.
The couple taught the children how to swim, attends their school performances and helps them with their homework. They find used bikes and fix them up for the kids so they can get around. The four children—who barely know their biological father—have come to call their surrogate one "Dad."
"This couple basically said, 'We are going to invest in this family and mentor these kids, and not just in financial ways, but emotionally and relationally,'" King says. "That is an example of what we do here."
The center, situated across the street from a government housing complex in South Bend, Ind., has become the lifeblood of a community that grapples with poverty, addiction and crime. It houses a multitude of volunteer-led ministries that give the community a hand up, not a handout.
The center traces its roots to 2001, when Granger Community Church—about a 20-minute drive away—launched a children's ministry in the downtrodden area. Over the years, the church began to help a food pantry that operated from an old building across the street from the government housing complex, home to some 840 residents.
By 2007, the church owned and renovated the building, ran the food pantry and that year launched the community center, which today partners with local businesses and public schools to offer a variety of aid, including after-school care, GED training, addiction recovery meetings and more.
Its financial literacy classes, run in conjunction with a bank, include dinner and child care. Through it, one homeless single mother learned how to save, little by little, and eventually got her own apartment, King says.
The center's work-release program helps men who have been incarcerated for decades find jobs, King says, adding "we have had probably more than 40 guys get baptized from the re-entry center." A home management program gives folks proactive tools to avoid eviction, he adds.
A weekly dinner called "The Gathering" treats residents to a fine-dining experience, complete with candlelit tables and top-notch service. Not only does it let people know they're valued, but it gives them a chance to meet and become friends, he says.
"One of the things we have found out is many people didn't know each other, and were afraid of each other, and afraid to go outside," King says. "We wanted to create a safe space where community can happen and relationships can be built within the neighborhood."
Underscoring all these efforts is an attempt to show people "that they do matter to Jesus," King says.
"We sometimes hear, 'Well, it shouldn't be your agenda to bring people to Jesus,'" King says. "That is not really our agenda. Our agenda is to bring Jesus to the people, and say 'God cares about your circumstances, your issues, the injustices that you face, and he loves you whether you come to him or not.'"

GRANGER COMMUNITY CHURCH Granger, Ind.
Website: GCCWired.com
Lead Pastor: Mark Beeson
Founded: 1985
Affiliation: United Methodist
Locations: 3
Attendance: 5,500