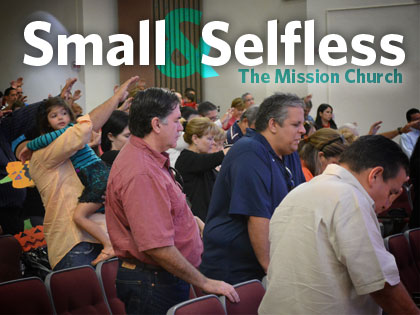 The Mission Church serves other congregations with the love of Jesus.
When Pastor Jim Campbell planted a church in Palm Bay, Fla., several years ago, he rented space from a large public high school in the far outskirts of town.
Families from the coastal Florida city of about 100,000 residents who sought out the Southern Baptist-affiliated Bay West Church would often get lost on the long road to the property, and the rent wasn't cheap, either, Campbell says. After praying about it, Campbell decided to relocate.
In what Campbell calls "a God thing," he met Pastor Mark Ostrander of The Mission Church at a local prayer event shortly thereafter. Ostrander invited Campbell to use his nondenominational church's 15,000-square-foot Palm Bay facility with no strings attached.
Campbell moved his congregation in last summer and reduced his overhead costs by 60 percent as a result. Over the last few months, The Mission Church also changed its Sunday service time to better accommodate its new roommate's scheduling needs, lent them tons of equipment and even created new signage with both their monikers.
"Their act of generosity and being over the top with it and really treating us so well, it's inspired us," Campbell says. "They have helped us tremendously."
It's not the first time The Mission Church has stepped up like this. The 33-year-old church has welcomed nine other congregations of various denominations over the last 20 years to share space, allowing the guests to use the church's equipment and set the amount they can contribute toward monthly expenses.
"They know their finances, so that's up to them," Ostrander says. "I don't like the word rent."
It's a win-win, but it's more than that, he adds.
"It's all the stuff God has blessed us with," Ostrander says. "If we can be a blessing to someone else, that is what we are all about."
Campbell says it's not uncommon for churches to rent space out to other congregations, but The Mission Church does it differently.
"The church-sharing I see around is like, 'Sure, you can use our stuff,'" he says. "With Mark, it's more like, 'I want this to be your stuff, this is your chair, this is your home.' We really do take ownership like it's ours, and they go a long way to engender that."
The Mission Church's generosity is known to go beyond its four walls, too.
The first church to share its property some 19 years ago was a Haitian evangelical church that spoke French, Creole and English. When the Haitian church was stable enough to move out, it bought 2.5 acres down the street, but then learned only about an acre was usable because the rest was wetlands.
They got duped by the seller, so Ostrander sold them a piece of his own 10-acre property—2.5 acres—for nearly 70 percent off the market value. Now they're neighbors.
Ostrander says his congregation was concerned for its longtime friends and just wanted to help.
"There is so much fractionalization amongst churches and pastors," Ostrander says. "There is one Lord. Let's just concentrate on getting people into the kingdom of God and pointing people to Jesus."

THE MISSION CHURCH Palm Bay, Fla.
Website: None
Lead Pastor: Mark and Evie Ostrander
Founded: 1980
Affiliation: Nondenominational
Locations: 1
Attendance: 180