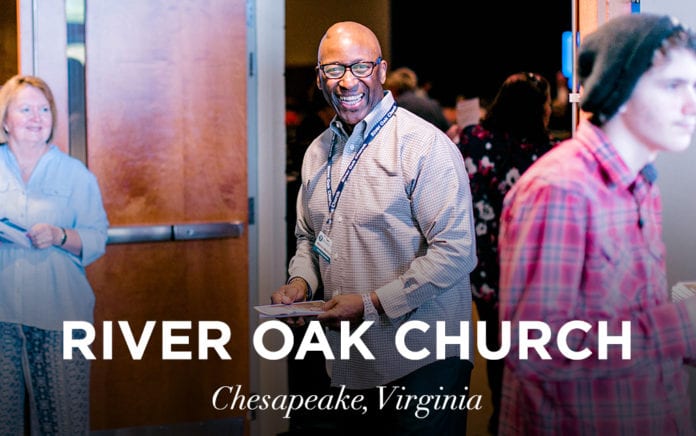 Virginia Congregation Stands for a Relationship with Christ
When Larry Harrington joined River Oak Church in Chesapeake, Virginia, he was a retired U.S. Marine who was struggling to settle back into civilian life. He wanted to continue to serve and defend his country, maybe as a police officer or a border patrol agent, but he couldn't find a job, and then he had to have a total knee replacement. He felt stuck.
Then he met Senior Pastor Heath Burris and the people of River Oak, and everything changed. Harrington experienced God's grace, biblical truth and real relationship—with other Christ-followers and with Jesus—instead of religion.
"I was angry, and I didn't know where to turn," Harrington remembers. "I was trying to do it myself."
But Burris encouraged Harrington to trust that God would show him a path in his time.
"I had to let go of self, and I had to let God deal with me the way he wanted to," Harrington says. "I had to learn to be patient and trusting, and I had to dive deeper into his Word. He placed me right where I needed to be, and I couldn't be happier."
These days, Harrington serves on the church safety team, which lets him protect the congregation, and he volunteers with the outreach ministry Rock Builders, which helps neighbors in need with home repairs and construction. He also serves as a mentor and tutor at the local high school to help raise the graduation rate. And he's walking with several folks in the congregation through their own struggles, encouraging them and pointing them toward God—just how it was done for him.
River Oak is a growing church, and Burris says it's because people like Harrington are showing up also needing grace, truth and relationship.
River Oak has "a commitment to preach and teach the Word of God and a body of believers that loves each other and desires to do life together," Burris says.
They're committed to truth, but they also understand grace.
"It's a place of grace," Burris says. "We see a lot of people walking in the door with wounds from another church or just from life. It's been a neat thing to see [the church] really wrap its arms around those who walk in the door. We try to create an environment where we don't have to fake it. You walk in, and you've got stuff just like I've got stuff. So let's bring it to the Lord together. That's been the way we've tried to model all that we've done, and I think people are drawn to that."
Harrington certainly was, and he's seen—and personally walked alongside—others who've been drawn to relationship with each other and with Christ as well. "[People] are taken in, no questions asked, and embraced with the whole relational aspect of having Jesus in your life," he says. "People realize it's about a relationship, not the religion of coming to church. Because religion killed Jesus. We're not trying to kill Jesus, we're trying to lift him on high. This is a village of people who just love Jesus, love the church and love everything that we're standing for, and that's a relationship with Christ."
And when people do see life transformation and have powerful testimonies to share, the church celebrates.
"We're always trying to celebrate those wins for people to see," Burris says, "because I think for any of us, the natural tendency is just to come in and sit for an hour, get your coffee and head out. But we're trying to keep in front of them the reality that if you're not connected, it's really only a matter of time before the storms come. If you don't have that built-in fellowship and accountability and encouragement from other believers you're going to find yourself kind of isolated."
But Burris and the people of River Oak try to make that fellowship and accountability happen. If they can love each other well, be true to the gospel, and always point people toward Jesus, well, then they've created the kind of place other people want to be.
Of course, Burris says, that still doesn't explain all the growth.
"It has just been such a God thing, because there really isn't a human explanation for it," Burris says. "We're still trying to figure out what we're doing, and the Lord is just blessing us."
—Jessica Hanewinckel
RIVER OAK CHURCH
Chesapeake, Virginia
Lead Pastor: Heath Burris
Twitter: @RiverOakChurch
Website: RiverOakChurch.org
Founded: 1999
Affiliation: Southern Baptist
Locations: 1
A 2019 OUTREACH 100 CHURCH
Attendance: 2,844
Growth: +384 (16%)
Fastest-Growing: 48