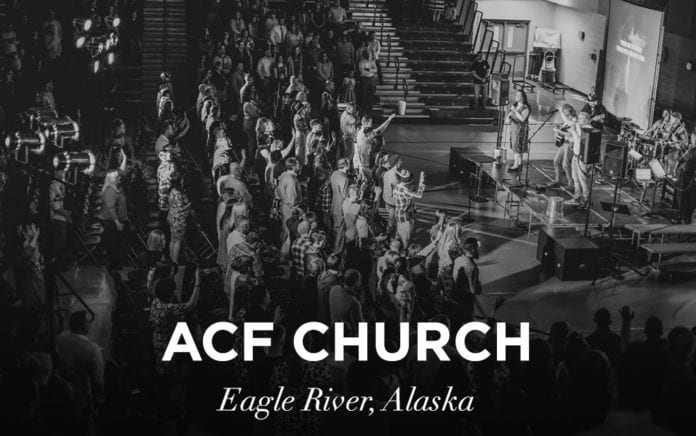 ACF Church Combats the Isolation of Alaska
Brian Cook, lead pastor of ACF Church in Eagle River, Alaska, says there's no magic bullet to growing a church. That said, his congregation began to bloom after the church added a fourth worship service.
"That helped make space for people," he says. "Definitely, making room has made a difference. If we make room, it ends up getting filled up, so there's that."
In addition, ACF has consistently performed community outreach, which has helped to spread the word about it in Eagle River, just 15 miles from Anchorage, the state's largest city. The church also saw a spike in growth after offering five Christmas Eve gatherings, a decision that allowed more first-time visitors to attend services.
Many newcomers to the church are members of the armed forces, as the area is home to Joint Base Elmendorf-Richardson, an amalgam of Elmendorf Air Force Base and Fort Richardson, which merged in 2010. Cook says the base is often one of the first duty stations for young people starting their military careers. Having grown up in a military family, he empathizes with them.
"I was a military kid who traveled around from place to place to place," he recalls. "I know what it was like to move somewhere and have people not want to invest in you, so we [at ACF] decided, 'Let's make this the best two to three years of your life. Let's pour into you and invest in you.'"
Cook says it's especially important to make newcomers feel welcome because Alaska is typically cold and dark in the wintertime, leading residents to struggle with seasonal affective disorder. Due to the population of active duty military and veterans in the area, both PTSD and marital problems are also concerns for the church.
Although ACF does not have a program focused on any one mental health problem, the church helps people who are hurting by offering them a safe space in ministry, according to Cook. Also, ACF has relationships with area therapists and to whom the church refers members with more serious problems.
Church member Tami Ryan says she really struggled when she first began attending ACF about a decade ago. The death of her brother years earlier had weakened her faith in God, but she visited the church to make friends. The warm welcome she received inspired her to keep coming back to ACF.
"I think the big thing that really drew me is that it's a real place for real people," Ryan says. "What you see is what you get, and you're not looked down upon if you have questions and doubt."
In other Christian communities, she'd been accused of losing her faith for expressing doubt. At ACF, leaders told her they invited her questions and wanted to explore faith together. Since she joined the church, Ryan has served in multiple roles, including on the worship and first impressions teams.
She's felt a sense of community at ACF that she hasn't felt elsewhere.
"Alaska can be an isolating place," Ryan says. "But ACF is a place where there's instant family. I'm a single woman. I'm not married. I don't have children, but I don't have to question where I'm going to spend the holidays. When I had surgery a couple of years ago, I was taken care of. It's so refreshing."
ACF, however, isn't perfect. As a spiritual leader, Cook says that he's learned to avoid the temptation of embracing the church's successes while distancing himself from its failures.
"It's much healthier to realize that faithfulness and obedience are really the reward," he says. "God owned the success, and God carries us through the failures. I think that's what keeps us on mission."
—Nadra Kareem Nittle
ACF Church
Eagle River, Alaska
Lead Pastor: Brian Cook
Twitter: @AKBrian
Website: ACFAK.org
Founded: 1987
Affiliation: Christian and Missionary Alliance
Location: 1
A 2019 OUTREACH 100 CHURCH
Attendance: 1,277
Growth in 2018: +226 (22%)
Fastest-Growing: 71