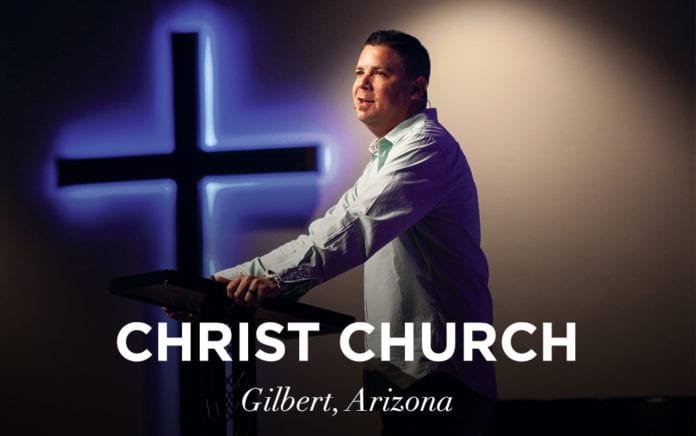 A Diverse Community of Transplants Finds Their Home at Christ Church
"We asked God to make us another gospel light in this community," says Senior Pastor Adam Bailie. "We wanted to be a church where people consistently find connection with God and with other people. We wanted to create a place where everyone can come as they are and experience God's saving and transforming grace."
Christ Church in Gilbert, Arizona, has accomplished these goals in a number of ways. "Changed lives are at the root of our church's growth," Bailie says. "From the very beginning, people have visited our church, experienced God's powerful presence and grace, and they've told others about it. It's truly been an organic work of God."
Fulfilling the Great Commission is at the heart of everything they do at Christ Church. "We are just a gathering of Christians who want to reach others with the gospel," he says. "We are working hard to make mature disciples and mobilize them in this community."
The church revolves around relationships. "The leaders in our church maintain strong relationships with each other and with God," Bailie says. "There are no shortcuts, though. We spend time together and slow down enough to have real conversations. We focus on the mission of Jesus and work together to accomplish it."
Relationships are started the moment people enter Christ Church. "We believe the best thing to greet new people isn't just a sign—it's another person," he says. "Our hospitality team greets our guests in the parking lot and guides them toward a powerful encounter with God."
Christ Church has a multigenerational congregation that includes a large snowbird population of older people plus young families and young professionals. According to Bailie, ethnically diverse communities surround the church. "I'm proud that our church matches the community. We are striving for unity, and it's the gospel that unites us."
Christ Church often attracts people who visit the movie theater next door. "People see our building and come to church," he says. "With this location, some guests don't even need to be invited, which is a huge advantage for growth."
A unique characteristic of the community is that nearly everyone is from somewhere else. "Arizona is full of transplants from other states, so very few people have family here," Bailie explains. "Our church is genuinely a family."
One of these transplants is Ryan Andrews. He and his family moved to Gilbert two years ago to be closer to his wife's family.
"We moved from Maryland, and we didn't attend church there," he says. "My wife and I are from different faith backgrounds, so we could never find a church that was a good fit for both of us. After a while, I used work as an excuse not to attend church. My wife and I had marital problems because of my job, and I knew we needed to make some changes."
After moving to Arizona, the Andrews family tried four or five churches. "It was the same problem we'd always had: They just didn't seem to fit with both my wife and me," Andrews says. Then someone told him about Christ Church. "We both fell in love with it the first time we went. Everyone was so friendly, and we just felt comfortable there. We didn't feel like we were new.
"My wife liked the 'come as you are' feeling, and I loved the message and the music," Andrews says. "Before the sermon was half over, we both knew we were home."
After a few months of attending, he began having doubts about his salvation. "I just wasn't sure that I'd ever really taken the steps to be saved. I listened to a lot of Adam's sermons, and eventually I prayed for salvation. I got baptized, and we became members of Christ Church."
The church's focus on its people communicated to the couple that they were loved. "They encourage us to use our spiritual gifts," says Andrews. "They understand that everyone has struggles, and we are accepted as we are. This church has definitely become our family."
—Diane Stark
CHRIST CHURCH
Gilbert, Arizona
Lead Pastor: Adam H. Bailie
Twitter: @AHBailie
Website: ChristAZ.org
Founded: 2012
Affiliation: Nondenominational
Locations: 3
A 2019 OUTREACH 100 CHURCH
Attendance: 1,614
Growth in 2018: +678 (72%)
Fastest-Growing: 6