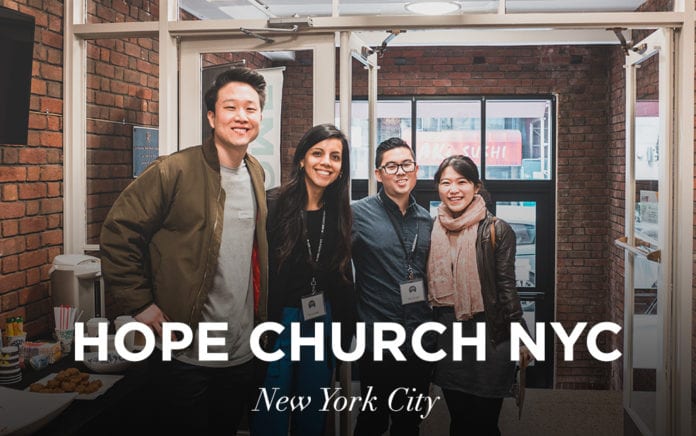 NYC Church Builds Urban Network to Empower Everyday Missionaries
Church multiplication in ultra-secular New York City can be challenging. It can be a difficult place to merely sustain oneself, let alone thrive. But necessity is the mother of invention, and New York needs churches.
In 2012, Pastor Drew Hyun founded Hope Church NYC. Hyun, who is also the founding pastor of Hope Midtown, one of Hope Church's nine locations in the NYC area, sees New York as primed for mission.
Hope Church NYC makes church multiplication possible despite the obstacles by maintaining a strategy that's agile. It starts with growing Hope Church itself. Hope NYC is a nontraditional multisite church in that it considers each of its locations to be unique individuals of one large, diverse church family.
"We are a relational, interdenominational family of independent churches who share a common theological and cultural disposition, while existing to start and empower healthy urban churches," Hyun says. "We believe that movement dynamics happen when we work with different denominations in a unifying kingdom of expression."
Each location affiliates with the Vineyard, Foursquare or Evangelical Covenant denominations. Similarly, each location has its own pastor, staff, teaching, sermons and worship. The pastors spend a lot of time together, and what they do missionally with each church location comes out of their relationship and friendship. But Hope Church NYC is structured so that any location can plant independent locations that also become part of the Hope family. It's a very low-control environment, Hyun says.
Because it can be difficult to find affordable spaces to gather more than 100 people, congregations aren't large—between 80 and 400 people each—but they're healthy. When they decide to send out a group to plant a new church somewhere else in the NYC area, they're doing it in a small- to medium-size context.
"I think there's a misconception that one has to be a certain size before they multiply, but I don't think that's necessarily the case," Hyun says. "A church of 120 people is thriving here. I know that some larger churches would think that at 120 people, we'd need to close that campus. The mind-set, the metrics, the measurements of success are just so different. That's why I think that in New York people really need to see themselves in a missionary context."
Which is why the church recently pioneered The Hub NYC, a mobilization hub for everyday mission that aims to bring missional, incarnational communities and kingdom entrepreneurship into pockets of New York. Modeled on the Tampa Underground, a network of experimental microchurch communities in the Tampa, Florida, area, The Hub similarly brings the gospel to small segments of the community that a more traditional church might not be able to reach. A number of these small communities are house churches, Hyun says. They're not branded Hope, but they share a similar theological disposition.
"The Hub is really trying to empower everyday people to be missionaries in whatever context they're in," he says. "For instance, we have a young lady who is starting an after-school program, and we're helping fund her. Her official title is 'midtown missionary.' We want her to see herself as a church planter. She is doing something missional that involves leadership, reaching the lost and discipling young people. We want her to feel just as empowered in her endeavors as any of our Hope Church planters would."
Additionally, Hope Church NYC founded the New City Network, a collection of urban churches around the world. New City has helped provide resources to plant 23 urban churches globally that affiliate with a wide variety of denominations. Now, the network is bringing together a collective of churches in urban centers around North America and is starting to formalize that relationship. Although New City has a global reach, Hope Church NYC's day-to-day, tactile mission lies in reaching the New York City area—and that's Hyun's daily focus.
"We want to make Jesus known throughout the nations, and what better way to do that than to be able to multiply God's work here where the world has basically come to New York?" he says. "I think there is definitely a sense of stewardship that if we can reach every kind of New Yorker, it will touch the world."
—Jessica Hanewinckel
HOPE CHURCH NYC
New York City
Lead Pastor: Drew Hyun
Twitter: @DrewHyun
Website: HopeChurchNYC.org
Founded: 2012
Denomination: Evangelical Covenant
Church-Plant Affiliation: New City Network
Locations: 8
A 2019 OUTREACH 100 CHURCH
Attendance: 1,500
Reproducing: √