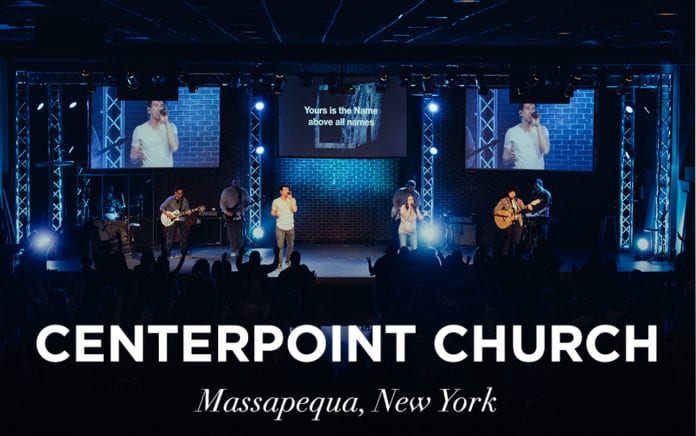 Church Partnerships Help CenterPoint Flourish
When Brian McMillan moved to Massapequa, New York, he fell in love with the area. A wide-eyed, optimistic 25-year-old pastor, he approached several local church leaders to let them know that he was launching a new church called CenterPoint. He assumed they would all greet him with open arms; he was wrong.
"They wanted nothing to do with me, and I was heartbroken," recalls McMillan, who that very day promised God that he would always do what he could to encourage other churches to help them succeed.
"One of the reasons I think CenterPoint has grown is because we've been open to bless other churches on Long Island," says McMillan, who compares the process to giving blood. "You want to give enough blood to give someone else life without dying in the process."
For instance, the church started Revive Long Island, a networking opportunity for local ministers to share best practices and even launch churches that cross denominational lines. On its website, CenterPoint lists 20 other local churches, from Baptist to Pentecostal, so that if it is not the right fit, visitors can find a church that is.
According to McMillan, most of church's growth has come from people finding faith. "That's one of the reasons it's taken 18 years to get to where we are—people had to see us as a viable option for spiritual growth."
Today CenterPoint is the go-to church for the community, partly because they embrace a kingdom mind-set that leads them to try and reach the 3 million people of Nassau and Suffolk counties—and 5 million more if you include Brooklyn and Queens.
"Our motto is 'Brooklyn to Montauk,'" says McMillan, who grew up in a church where the pastor was expected to be perfect. It was a concept he never understood, which is why he leans in the completely opposite direction. At CenterPoint, there is a real rawness—everyone is invited and encouraged to open up about their struggles and shortcomings in order to cultivate a sense of authenticity.
"I realize that's a buzzword everyone likes to use, but you've got to remember that cynical New Yorkers can smell a scam a mile away, and for a lot of people, religion is a scam," says McMillan. That's why he openly shares what's on his heart even when it's uncomfortable—like the time in a sermon when he listed all of the reasons why he shouldn't be a pastor: his past struggles with learning disabilities, the way his mind works and how it can be so ungodly.
"I put it all out there because I want people to know that if God can use me, he can use you," says McMillan. "These raw moments of vulnerability are what makes me want to stay in ministry."
Given that New York is a massive melting pot, vastly different communities need to be served. Therefore, CenterPoint has launched four distinct campuses. For example, the Kings Park campus is mainly blue-collar Irish while the Bayshore campus is urban. The Massapequa campus is made up primarily of Italian Jews, and the Long Beach campus feels very West Coast.
Though McMillan has been a pastor for two decades now, he's still learning. "I thought I had this all figured out, and then another year goes by and I throw out half the stuff I believed the year before," he says. "I'm always reminded that there's so much more to learn."
Much of that learning comes from mentors in his field whom he checks in with regularly—pastors like Larry Osborne and Steve Stroope.
"Attending conferences is good," says McMillan, "but you need personal relationships with people far ahead of you who can offer a broader perspective on life."
McMillan coaches between 10 to 20 people, mostly locally because his heart belongs to Long Island. "Most of my energy is poured back into this area," he says. "I feel called here until I retire."
—Christy Heitger-Ewing
CENTERPOINT CHURCH
Massapequa, New York
Lead Pastor: Brian McMillan
Twitter: @BrianMcMillanNY
Website: CPChurch.com
Founded: 2002
Affiliation: Christian and Missionary Alliance
Locations: 4
A 2019 OUTREACH 100 CHURCH
Attendance: 1,946
Growth in 2018: +402 (26%)
Fastest-Growing: 30