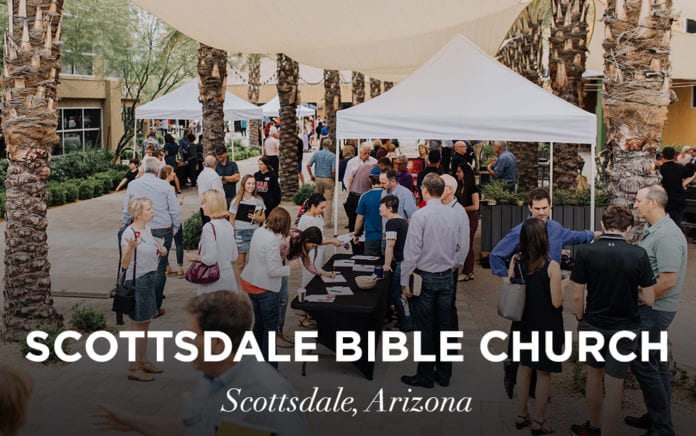 Scottsdale Bible Church Brings Service to the Community
Incorporated in 1951, Scottsdale, Arizona, is home to luxury resorts, spas and golf courses. It is also home to Scottsdale Bible Church, a nondenominational congregation that launched 57 years ago when members of Bethany Bible Church in nearby Phoenix sought to plant a similar church, says Jamie Rasmussen, Scottsdale Bible's senior pastor.
Rasmussen, who is in his twelfth year serving at Scottsdale Bible, says the church grew rapidly during the 1980s and 1990s. Today, it offers seven services at the main Shea campus, three at the Cactus campus plus a Spanish language service, and three at Scottsdale Bible's new North Ridge campus.
He describes the Phoenix metropolitan area as racially and economically diverse with great needs. "We keep our hands busy ministering to the needs of the city." The church consistently partners with numerous local ministries, he adds. "We're constantly serving the city and doing anything that we can to help people around us in order to win a hearing for the gospel."
For example, the church hosts annual water drives and shoe drives, and supports the Phoenix Rescue Mission as well as Neighborhood Ministries, a group that provides food, clothing and other resources to underserved communities.
Overseeing Scottsdale Bible's local outreach is Shannon Cox. Her first visit to the church in 2000 was during a time when she felt estranged from God.
"I wanted a place to plug in as a young, single woman after graduating college," says Cox. "I was sitting in the back row by myself, listening to the biblical teaching and the worship music, and God began to soften my heart. The Holy Spirit moved. It's actually how I came back to Christ."
Scottsdale Bible also carries out global missions, supporting a ministry in Tanzania to build schools and feed children. The church also is helping in the construction of a dormitory for teen girls in that country so they can continue their education and escape pressure from their families to leave school and marry.
After Rasmussen came on board in 2007, the church spent the next five years retooling and redeveloping its ministry focus. He says the church's efforts to develop a clear and compelling mission have helped the church to grow.
"Our mission is 'Get God. Get Real. Get Out There,'" he says. "It's that third component—to get out there—that's of high value to our church. We need to be out in the community, loving people in the name of Jesus and serving them."
He says the "Get Real" component encourages members to live authentic Christian lives by getting into small groups or services, telling their story, confessing sin and being honest with who they are to start the healing process. In fact, he considers the church's grace-based environment to be an important contributor to the church's expansion.
"We don't want people feeling like we just overlook all of our foibles," Rasmussen says. "But until people receive the freedom of love and acceptance for who they are, they're never going to want to change."
He also believes the unity between the elder board and other church leaders has led to growth, noting a church can repel congregants if they sense disunity and infighting. "We had to really work at that. It's not that we can't disagree—certainly we do, but we maintain a spirit of unity and the bond of peace."
As far as lessons learned as a spiritual leader, Rasmussen says he tries to keep it simple. "I've learned to stay focused on why I got into this in the first place, which was to help people know and find God."
—Gail Allyn Short
SCOTTSDALE BIBLE CHURCH
Scottsdale, Arizona
Lead Pastor: Jamie Rasmussen
Website: ScottsdaleBible.com
Founded: 1962
Affiliation: Nondenominational
Locations: 3
A 2019 OUTREACH 100 CHURCH
Attendance: 7,723
Growth: +919 (14%)
Fastest-Growing: 28
Largest: 48