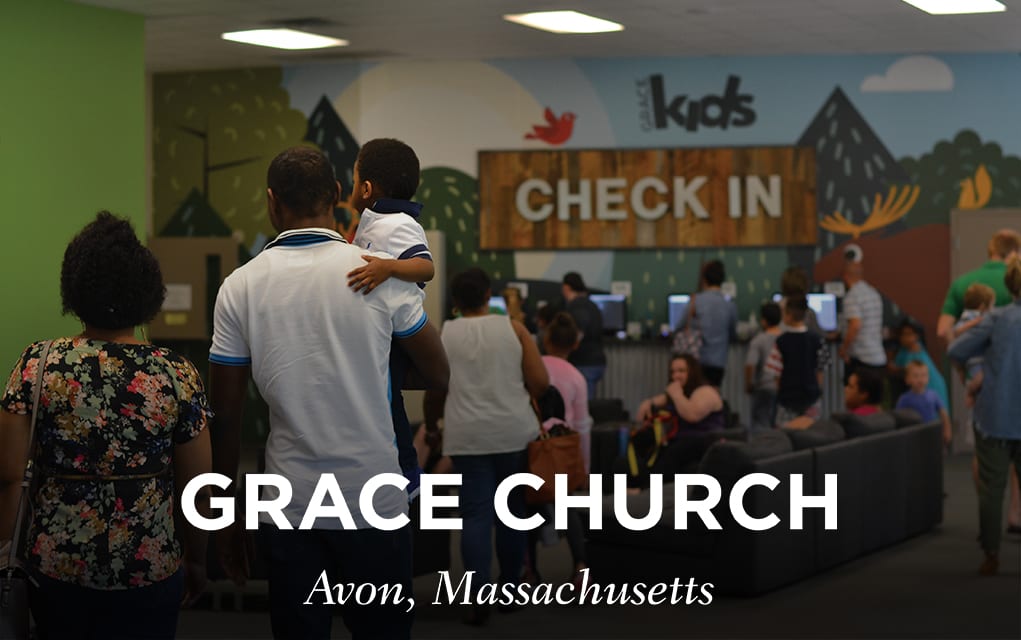 Grace Church Loves to Connect Secular New England
For decades, churches across New England have been closing their doors. But other churches in the region are opening and welcoming people—new believers and those burned out by their former church experiences—back to church, and back to Christ.
Jean Lespinasse and his wife were in that second group. About three years ago, they were ready to move on from their old church experiences. A friend recommended Grace Church in Avon, Massachusetts, a town about 30 minutes south of Boston.
"From the first time I went there I fell in love with it," Lespinasse says. "The whole culture was a new experience for us. The teaching was powerful. The volunteers were genuinely welcoming and friendly. That's what drew us in. And the church was sensitive to nonbelievers. That's where its resources went—and that's what kept us there."
Lespinasse, who now leads the youth ministry at Grace's Braintree campus, is the son of Haitian immigrants. Though Grace isn't a Haitian church per se, Lespinasse feels right at home. The church is about 35 percent black and 45 percent white, with the remaining 20 percent a mix of Brazilians, Asians and Spanish-speakers. Grace is equally diverse politically, and they give resources and plan mission trips to places that resonate with their members: Sierra Leone, Haiti, Uruguay, Mongolia, Guatemala.
"Grace has done what is very difficult to do," Lespinasse says. "It's a diverse mix of backgrounds racially and culturally. I think that's part of what inspired my excitement. It didn't feel weird to see so many different backgrounds. The culture at Grace has pushed the envelope to be multiracial. You also see it in the leadership too. It's not about race; it's about whether you're qualified. This church is intentional about diversity."
According to Pastor Sean Sears, that diversity is an accurate reflection of their community, and it starts at the top.
"White pastors will ask how to become more diverse," Sears says. "I think the church will be as diverse as its social network. Everywhere they can desegregate our country, where they can force it, they have. You know where they can't force it? Your backyard. And because churches are social constructs, they will only be as diverse as their social network. So, truthfully, our church accurately reflects the types of friends I had in town before I was a pastor."
Grace is also distinctive for its thoughtful inclusion of people across the spectrum of belief. About a quarter of attendees are nonbelievers, and half have come to Christ during their time at Grace. That's thanks to the staff being plugged into the culture they're trying to reach (all work an additional secular job), and to the whole congregation being sensitive to the perceptions of nonbelievers.
"I think our unique ability is the way we talk about spiritual things so that spiritually disconnected people understand," Sears says. "For example, I don't use the terms unsaved or lost people because they wouldn't classify their spiritual condition that way. I use the term spiritually disconnected, and they identify with that. It's that lean toward those outside of the church that I think has helped us connect more people to faith in Jesus."
That's all led to lots of growth at Grace. This past February, it opened a new campus in neighboring Braintree, and it's preparing to launch a third campus in the community of Bridgewater. And since beginning with just 85 attendees, Grace has been involved in four autonomous church plants in the region and helped with many others.
"Our church-planting agenda is driven by a strategy that's completely customized to the giftedness of the planter," Sears says. "Some churches will only start video venues, or live teaching campuses, or independent autonomous sites. We want to keep our options open, so we'll do all of those. There are so few towns that have gospel representation in them, and our community is so gospel needy, that it forces us to be more creative and adaptable to different models of church planting."
That commitment to planting—and to reaching as many people as possible with the gospel—is just one more reason people keep coming to Grace. They want to be a part of something big.
"People are looking for substance, and you get that here," Lespinasse says. "Grace puts their money where their mouth is."
GRACE CHURCH
Avon, Massachusetts
Lead Pastor: Sean Sears
Website: ThatsGrace.com
Founded: 2005
Affiliation: Baptist
Locations: 2
A 2018 OUTREACH 100 CHURCH
Attendance: 1,822
Growth in 2017: +447 (33%)
Fastest-Growing: 35