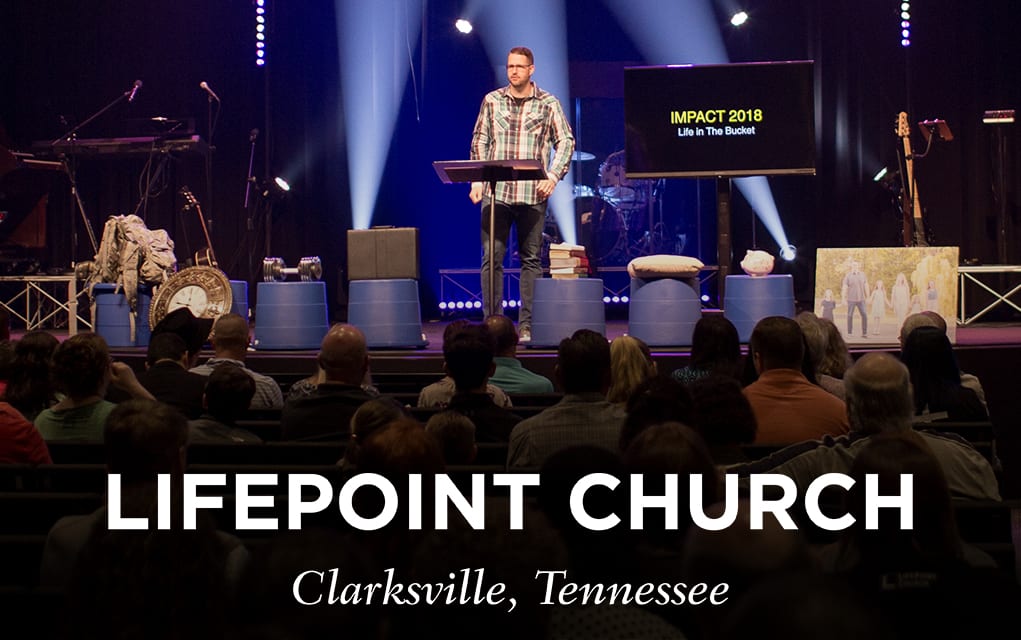 LifePoint Church in Clarksville, Tennessee: Creating a Healthy Church Culture.
Jarae and Jessica Meriwether were burned out on church. The couple grew up in Jarae's dad's church in a small town where they say tradition, religion and performance outweighed a relationship with Christ. And when they left to join a small church plant in another town, they found themselves serving wherever and whenever the church needed an extra volunteer—which was everywhere, all the time.
But when they joined LifePoint Church in Clarksville, Tennessee, in October 2017, they knew they were finally home.
Jessica says they were impressed by the kindness they experienced from the first time they pulled into the parking lot and were handed a bag of cookies to the welcome they received when they knocked on a stranger's door one Friday night for their first visit to a small group. And Jarae, who says he'd always attended predominantly black or predominantly white churches, was blown away when he stood in the crowd worshiping among a diverse crowd.
And though the Meriwethers now serve on the worship team and in the children's ministry, respectively, they do it because they feel called to, not because there's no one else to do it.
It's great, Jarae says, "to be a part of a congregation now where you get to serve. It's a privilege. When the Bible says, 'My burden is easy, my yoke is light,' that's true here. You honestly get to lay all this down and just let God minister to you."
All the reasons Jarae and Jessica chose to make LifePoint their home are examples of the intentional culture its leadership has stewarded. Lead Pastor Mike Burnette says he and his team are careful to cultivate a healthy, missional church culture.
"The reason I talk about culture is because I think all evangelical churches believe the same stuff," he says. "I think we all practice basically the same things. But we don't all feel the same. That's culture. It's how it feels to come into a building. Are you a church that's attractive to the people who are missing or only to the people who are there? That's the difference. Growing churches have a real focus on the culture being healthy, simple and really missional toward their community."
Because LifePoint is located not far from Fort Campbell, a U.S. Army installation, it is involved in reaching military men and their families.
"Having a church that men want to attend is a big deal for me," Burnette says. "What that means culturewise is we're not obnoxiously masculine but we are particularly less feminine. That comes through in worship, in the songs we choose, the way I preach, and even the decorations, the smell and color choices. And if you reach men, you will get their whole families. And families—our highest budgeted department has always been our kids' ministry. Kids aren't the ones who make the decision to visit a church, but a lot of times they're the ones who make the decision to come back or stay at a church."
At the same time, LifePoint leadership says no to a lot of ministries and other things that would detract from the vision.
"Leading a large church with a healthy culture requires staying close to the vision," Burnette says. "Don't get busier because you've gotten bigger. In fact, stay lean when you're bigger. It's easy to add more. The more people there are, the more people there are to do stuff, and the more reasons there are to add ministries and projects. But you can't. You have to stay lean to stay healthy."
LifePoint has been on a growth trajectory for some time, but the past year has seen some major changes for the church that have contributed to increased numbers: In March 2017, LifePoint opened a new building, and in September 2017 and January 2018 it went multisite by opening two new campuses.
"Obviously we want to give credit to God for growth of this church," Burnette says. "I think sometimes it's easy to dismiss that and say, 'Oh, God grows his church,' but I really do believe that. I certainly believe growth is God's blessing. But if God can entrust us with this growth, we have to keep learning how to steward that growth. You can't make a church grow; you can only make yourself steward it well."
LIFEPOINT CHURCH
Clarksville, Tennessee
Lead Pastor: Mike Burnette
Twitter: @LifePointCville
Website: LifePointChurch.tv
Founded: 2005
Affiliation: Assemblies of God
Locations: 3
A 2018 OUTREACH 100 CHURCH
Attendance: 3,788
Growth in 2017: +1,922 (103%)
Fastest-Growing: 1