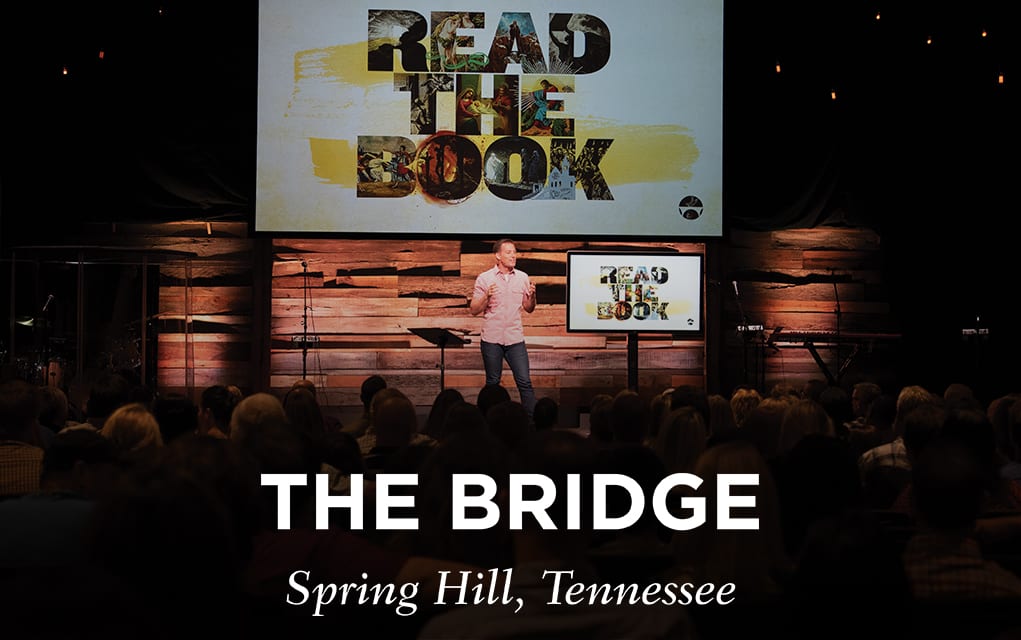 The Bridge's 'No More Fatherless Initiative' Offers Physical and Spiritual Adoption.
The Bridge Church in Spring Hill, Tennessee, has won over churchgoers by sticking to the basics, according to Lead Pastor Josh Howerton. The church stays focused on Jesus and the gospel, and is intentional about fostering relationships, he says.
"It's not a rule-oriented thing," he explains. "It's not a religion-oriented thing. It's just Jesus. We stay centered on him."
Being rooted in the gospel means behaving as Jesus did, which includes befriending sinners rather than shunning them
"We're building a gospel culture that matches our gospel message in our relationships with one another," Howerton says. "We actually embody the message that it's safe to be a sinner here. We honor one another and say, 'I choose to see you as God sees you.'"
The pastor says welcoming people, flaws and all, proves addictive to people who've yearned for acceptance in a faith community. In the Nashville area, much brokenness exists, he says. For one, the city stands out as the country music capital, and countless hopefuls move there without fulfilling their dreams. But the despair in the region extends beyond the music industry.
"What I've found is that we're in an area where there's a lot of brokenness beneath the surface," he says. "Everything on the outside looks great, but people are really discontent. They wish their family was something that it's not right now."
The family is one area the church has focused on. Through its "No More Fatherless Initiative," The Bridge not only intends to reach vulnerable community members but to permanently change their lives as well. The program aims to provide physical father figures for children without them and a spiritual father for people who've yet to commit their lives to Christ.
More than 60 adopted children attend The Bridge and 20 more adoptions will soon be finalized, according to Howerton. The church also includes several foster families.
"That's been huge for us," he says. "We really feel like our church is called by the Great Commission to accomplish the elimination of physical and spiritual fatherlessness."
By planting 20 churches in Central and South America, The Bridge hopes to help more people find their spiritual father. And the church has provided financial support to a crisis pregnancy center, vulnerable mothers and foster and adoptive families.
"The vision, the concept," Howerton explains, "comes from how God describes himself as a father for the fatherless and a defender of the orphan and the widow."
To reach a wide range of would-be churchgoers, The Bridge consistently uses Twitter, Facebook and Instagram, posting links to sermons, worship times, pictures of church outreach and more. When users share these posts, it ups the odds that someone who doesn't yet attend will see them and take an interest in The Bridge.
First-time visitors often remark "My friend posted a sermon" or "I saw this video clip that you guys did." Howerton says, "I think on social media people see the excitement around what we're doing."
When Madison Sproul first visited The Bridge three years ago, her life was in crisis. She had attended a Christian high school and knew the Bible in detail, but a series of personal struggles led her to become skeptical about the Christian faith.
"I went through a broken engagement, a miscarriage and other really hard seasons that made me question everything I thought I knew about Jesus," she says. "But when I stepped into The Bridge for the first time, everything changed. I walked in alone and scared. But as Josh preached, Jesus met me in that seat. Something clicked for the first time. That day I gave my life to Jesus, and I've never looked back."
THE BRIDGE
Spring Hill, Tennessee
Lead Pastor: Josh Howerton
Twitter: @BridgeChurchTN
Website: Bridge.tv
Founded: 2004
Affiliation: Southern Baptist
Locations: 2
A 2018 OUTREACH 100 CHURCH
Attendance: 2,506
Growth in 2017: +885 (55%)
Fastest-Growing: 5