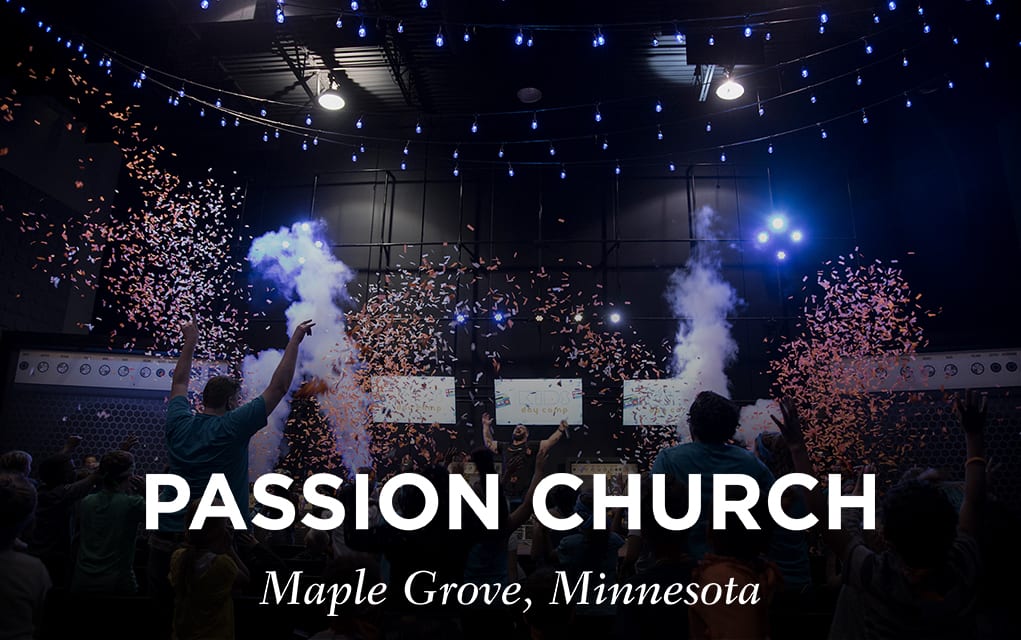 Passion Church Is Committed to Trying New Ideas to Connect
Passion Church started 13 years ago when four people met in a hotel on a day when there were more inches of snow on the ground than people in the church.
Two Guyanese teens, and two mothers, one African-American and one African, met with lead pastor Jonathon Brozozog and formed the church's planting team, although they were not connected to any church-planting organization. Their budget plan? "Just pray and trust God."
The church eventually grew large enough to meet in a small, renovated gas station, then a high school, and now at two facilities of their own that offer three services on weekends.
The diversity of their launch carried forward, and today they have what Brozozog describes as "probably the most diverse church in the state of Minnesota, or at least in the Twin Cities."
Being ethnically and generationally diverse gives Passion a sense of "people feeling they truly belong," according to Jason Bailey, volunteer communications director.
Coming from what he describes as a "biracial and multicultural family with small kids," Bailey notes that at Passion, "you're not going to find just one other person that looks like you. Everyone seems to just blend in and that, in and of itself, has sparked so much growth."
From inception, Passion has been dedicated to "reaching lost people" says Brozozog. "Growing up, church was focused on church people, but we decided to focus on the unchurched and the disenfranchised."
One of the ways the church has done so is through creative productions on a large scale. Around Halloween, for a message on overcoming fear, they hired a Michael Jackson impersonator and put on a live stage performance of the Thriller video, including 50 zombie dancers. They contacted Blue Man Group and secured permission to replicate the group's live show, and for a Frozen series, church members performed live versions of the songs from the Disney movie of the same name.
Always looking for unique and interesting ways to draw in people, the church has done its best to tap in to popular culture and current trends. When the pillow manufacturer MyPillow started advertising in the area, Passion contacted it and secured a deal that allowed them to give a new pillow to every first-time visitor, an effort that saw 800 new people walk through its doors in a short period of time.
"Churches give away T-shirts and coffee mugs, but we tried to hook our wagon to what was being branded and what people already knew," Brozozog says. "You don't have to be anti-culture to be pro-God."
When the second-largest fair in the country came to the area, Passion bought and advertised FreeStateFairTickets.com and saw 700 first-time visitors attend services to claim their tickets—visitors received a follow-up contact within a couple of days and were encouraged to try a "three visit challenge."
"For those who have never experienced church, it can be intimidating," says Bailey. "Trying to engage everyone who comes makes them feel welcome. Our services can be different from one another, so we encourage people to try us out three times."
In the years as a portable church, Passion rented U-Haul trucks regularly. Once they had their own location, church leaders decided they should own a U-Haul franchise. In the ensuing years, they also have opened an advertising and website company and a driving school for kids in the community. These three businesses serve two purposes: assisting in the funding of ministry and allowing the church to meet new people.
With all of their creative juices and only 11 full-time staff members, Passion leaders are in constant need for volunteers, teaching that there are no superstars, but everyone gets a chance to serve. They focus on developing young people to lead, and today three of their staffers have been raised out of their youth and young adult ministries.
Church leadership is committed to taking risks and trying out-of-the-box ideas—and having a whole lot of fun while serving a God who wants to move in people's lives.
"Dream big," says Brozozog, "or you'll get in God's way."
PASSION CHURCH
Maple Grove, Minnesota
Lead Pastor: Jonathan Brozozog
Twitter: @MyPassionChurch
Website: PassionChurch.com
Founded: 2003
Affiliation: Nondenominational
Locations: 2
A 2018 OUTREACH 100 CHURCH
Attendance: 1,478
Growth in 2017: +486 (49%)
Fastest-Growing: 24