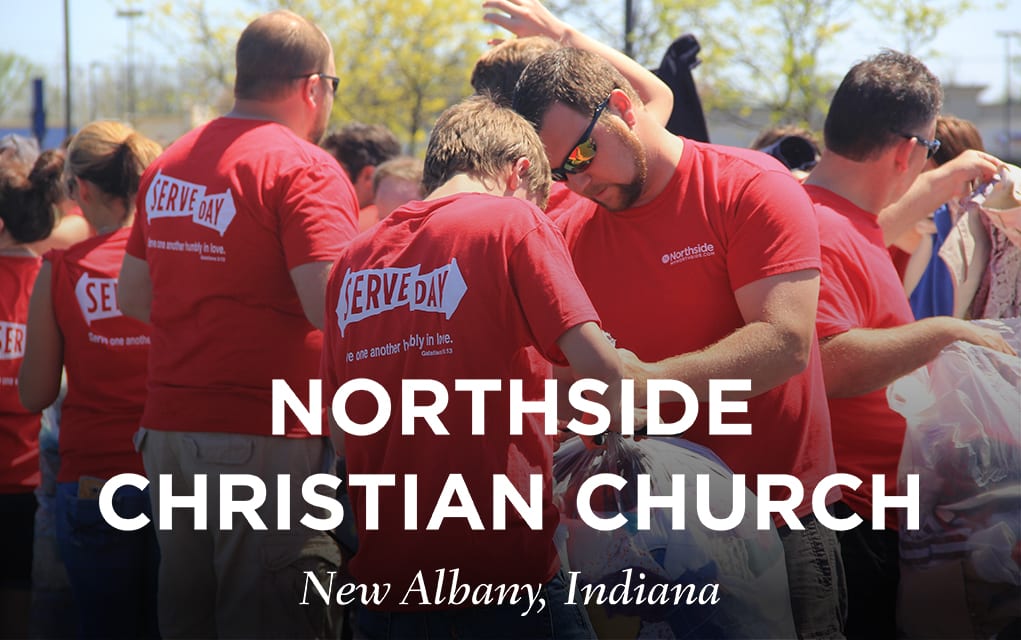 Northside Christian Church Casually Connects With the Community
For the first two years that Jodi Bibb attended Northside Christian Church in New Albany, Indiana, she and her family showed up on Sunday mornings and immediately went home following the service. They didn't mix or mingle and subsequently knew nobody. That was until they joined a small group where they met weekly with other members for fellowship, food and Bible study.
"Once we got connected, that was a game changer," recalls Bibb. "Suddenly church became so much more than Sunday morning. It became our community as we served alongside and lived life with these people."
In January 2018, Northside Christian Church went through a pastoral transition when the senior pastor became the teaching pastor and his son, Nate Ross, moved into the lead pastor position.
"My dad was the senior pastor for years, and usually when a senior pastor steps down, you feel a significant dip, but that didn't happen here," says Ross, noting that his father, George Ross, was an incredible pastoral presence in the congregation.
"He was always among the people, which comes from Acts 6 where it talks about people who choose these leaders who were among the people," says Ross. "I think one of the key things that makes us us is that we never want to become leaders who are not among the people. We don't ever want to be making decisions in a room and not engaging with people and sharing life."
To help with the transition in pastors, they invited an organization called Intentional Churches to lead a three-day workshop that proved to be monumental in terms of growth. It helped Northside Christian Church facilitate important conversations that enabled them to determine how to assist its members in being healthy spiritually, emotionally, relationally and financially.
"We want you to be healthy so you can be hungry for ministry and hungry for what God has in store for you," says Ross. "But we also want to be unified so that we do this together."
Located across the Ohio River from Louisville, Kentucky, the church pulls from nine counties.
"We have unintentionally become a destination church," says Ross. "People drive into our town to go to the movies or the grocery or the mall. Now people are also driving here because they've found a spiritual home."
One reason people feel comfortable worshiping at Northside Christian is due to the "come as you are" atmosphere. Bibb certainly appreciates it.
"There's such a refreshing casualness to the service. The pastors preach in jeans. There's a café," says Bibb. "They really want to be a church that reaches anybody and everybody."
And it has. In fact, all who attend are encouraged to go out and become a light in their communities. For example, not long ago a town a half an hour north of New Albany suffered an AIDS outbreak, and 120 people were infected through drug use. A group from Northside Christian Church partnered with folks from the town to help meet their needs.
"We're set up a bit differently in that we're pulling from such a regional draw that we're able to partner with a lot of people to do a lot of different things that are culture and context to where they're at," says Ross. "It's pretty neat because we're not in a city, but we're getting to influence a lot of the region through towns and people and leadership."
When it comes to spiritual leadership, Ross maintains that it boils down to doing the right thing while always keeping God's vision in mind.
"Being the new lead minister, there's a temptation to feel that I have to come up with all the answers, but that's not the case," says Ross. "Jesus already has the strategy. I just have to go, 'Hey, Lord, what's the right strategy for us right here right now?'"
NORTHSIDE CHRISTIAN CHURCH
New Albany, Indiana
Lead Pastor: Nate Ross
Twitter: @NorthsideCC
Website: MyNorthside.com
Founded: 1970
Affiliation: Independent Christian Churches
Locations: 2
A 2018 OUTREACH 100 CHURCH
Attendance: 5,540
Growth in 2017: +388 (8%)
Fastest-Growing: 80
Largest: 97