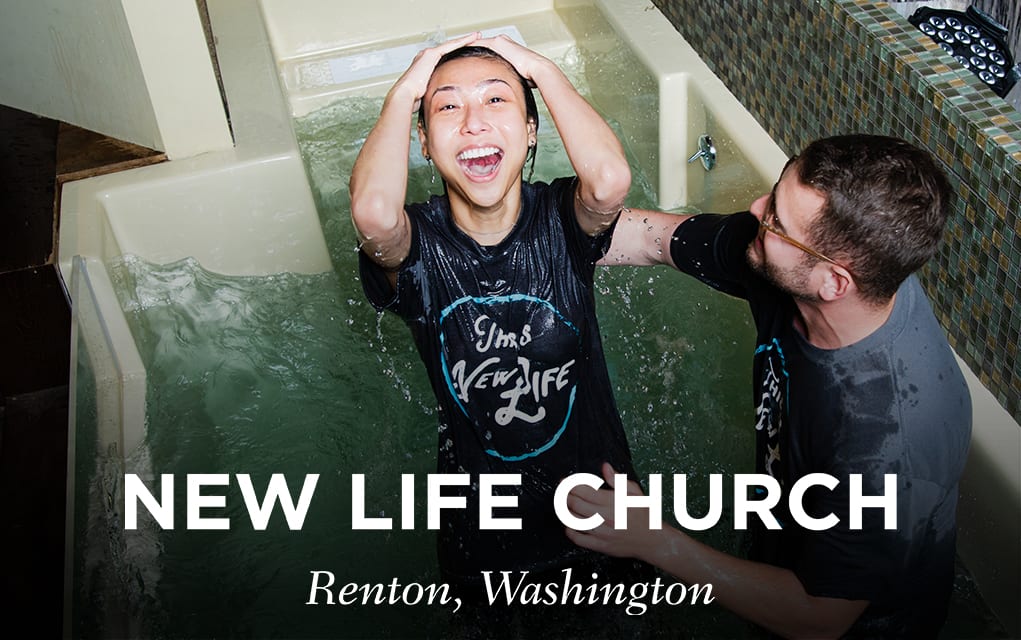 New Life Church Values Input From Every Generation.
Because the people at New Life Church in Renton, Washington, recognize that society is constantly changing, they do their best to keep a pulse on trends.
"While the message of the gospel never changes, methodology can," says Matt Lagerquist, executive pastor of New Life Church. To that end, they abandoned the approach of erecting one building and inviting communities to come to them. Instead, they launched several campuses in surrounding communities in order to connect.
"In doing so, we've seen staggering results," says Lagerquist. "Not only have we more than doubled in numbers, but also we're able to reach more people through a level of discipleship that we've never been able to do before."
Launching multisite campuses has been pivotal not only to their growth but also to who they are as a church. For instance, last year they planted a campus in Kent—one of the least churched cities in the least churched state in the country.
"We opened with 1,300 people on day one in October 2017, and it's consistently running over 800 people every weekend," says Lagerquist. "It's become a beacon of hope and light to the city. Lives are being transformed."
With its four physical and campuses—and its online presence—New Life rejoices in the great racial, ethnic and socioeconomic diversity within each. Some have a more urban vibe, other are more suburban.
Another key to New Life's growth is the way in which they empower members to lead. There's a tendency for pastors to take the helm in different arenas, which can cause burnout.
"Pastors have a heart for people so it can be hard for them to let go and delegate roles to others," admits Lagerquist. But he notes how Jesus told his disciples that they would do works even greater than he did (John 14:12), and then he empowered them to do so.
"We believe Jesus' model is a great one for us to work off of," says Lagerquist. Therefore, they turn a good deal to those in their 20s and early 30s for guidance and input.
"Young people in our congregation don't just have a voice. They are the voice," says Lagerquist. "They don't just help with initiatives but are oftentimes leading those initiatives. We strive to make young people part of the fabric and DNA of New Life."
He said their campus pastors, at 29, 30 and 32 years old, are younger than what is typical. But age is just a number.
"If that person has leadership capacity, we want to empower them to lead so we can build phenomenal youth and young adult ministries," says Lagerquist. "We want to hear their depiction of New Life and what a Sunday looks like to them."
At the same time, input from the older generations is just as valued. New Life is a 92-year-old church with a rich heritage of astute leadership.
"We have a term for those who have been in our church as leaders for decades—'pillars'—because they really hold the church together," says Lagerquist. "If it wasn't for their leadership, we wouldn't be here today. We stand on their shoulders."
To honor such individuals, they hold a weekly service called "Softer Sundays," where seniors receive the same message but enjoy more traditional music and style of worship. It may seem like a paradox since the church highly emphasizes children's ministry and younger families.
"We believe that if you can reach the heart of a child and they can meet Jesus at a young age, that has an exponential impact on their life and even for generations to come," says Lagerquist. "Having said that, we pursue our future vision relentlessly while simultaneously honoring the past."
That's why at New Life it is not uncommon to see three or even four generations worshiping together.
Through the years, Lagerquist has found that the more we try to hold onto our plan, the more we let go of God's plan. The flip side of that, of course, is that the more we let go of our plan, the more we hold onto his plan.
"When we cling to God's plan, we see incredible things," says Lagerquist. "He loves his church even more than we do—and we love his church quite a bit, so that's pretty cool."
NEW LIFE CHURCH
Renton, Washington
Lead Pastor: Troy Jones
Website: NLChurch.com
Founded: 1926
Affiliation: Assemblies of God
Locations: 4
A 2018 OUTREACH 100 CHURCH
Attendance: 4,479
Growth in 2017: +890 (24%)
Fastest-Growing: 14