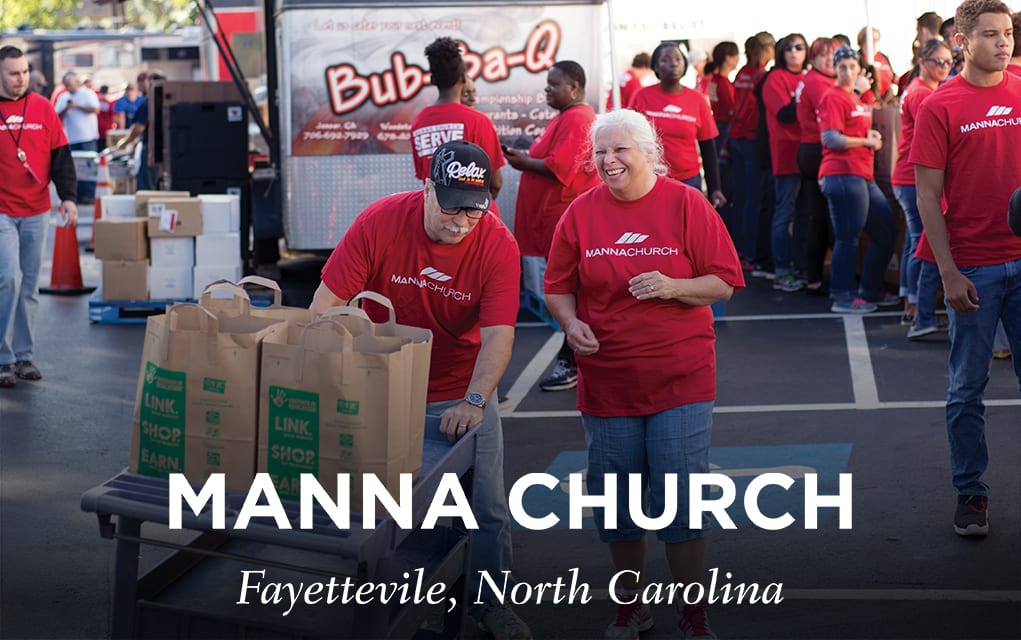 Manna Church Works Hard to Make Up for Military Attrition.
Lead Pastor Michael Fletcher loves to say hello to new faces in his sanctuary. But during his tenure at Manna, he's had to say his fair share of goodbyes because 70 percent of the congregation is military. The church is located next to Fort Bragg, the largest U.S. military base in the world.
"Due to our demographics, our attrition rate is 20 percent, meaning we have to grow 20 percent just to break even," says Fletcher. He contrasts that with what he says is the average attrition rate of US churches: around 7 percent.
Manna creates growth by doing two things very well: outreach and leadership development. Outreach involves doing acts of kindness in the community.
"We call them 'gospel touches,' and we make 400,000 of them in Cumberland County each year," says Fletcher.
When Hurricane Matthew devastated the area in 2016, for example, Manna had 2,973 volunteers on the street with chainsaws and rakes. They picked up trash, distributed 380,000 bottles of water, and fed 83,000 people, all in an effort to demonstrate the gospel.
"Here's the thing: People want to see your works before they hear your words," says Fletcher. "The majority of unbelievers are cool with Jesus. They just aren't cool with Christians."
To help change that perception, the people at Manna go to parades, festivals or any event that draws a crowd. On Black Friday, they hand out coffee and tea outside stores. In December they wrap presents for customers at Walmart.
"If there's a crowd, we're in it," says Fletcher.
He notes that when military members move away, the government doesn't spare the great tithers or the people who are key to running certain ministries. As a result, the church is proactive about continually developing leaders, many of whom are trained from within. In fact, Fletcher recently wrote a book titled Empowering Leadership: How a Leadership Development Culture Builds Better Leaders Faster. [Read the Outreach interview with Fletcher at OutreachMagazine.com/Michael-Fletcher.]
"Culture is who you are, what you do and why you do it," says Fletcher. "The cool thing about training your own staff is that those people become culture carriers."
Fletcher was an army brat himself who lived in Arkansas, Texas, Kansas, North Carolina twice, and Georgia three times by the time he was 14, so he knows how hard it is to put down roots and assimilate. He also knows that military people are largely underserviced due to the high degree of turnover. So, when Manna plants churches, they target military people.
"In just one year, 1,143 people moved away due to military transfer. I'm tired of sending people away from us," he says. "I want to send them from us to us."
Therefore, the church has started a multiply strategy to plant a version of Manna Church near every U.S. military base in the world.
"It's a unique opportunity we have because lots of people want to plant churches, but they have to stand in the pulpit and convince others to leave," says Fletcher. "With us, if the US government says you're moving, it doesn't matter what you want. You're going."
Whether coming or going, one thing is certain: God knows how to change hearts, minds and lives. Just ask Mike Ramos.
For much of their lives, Mike Ramos and his wife, Sattin, were not believers.
"We had bad church experiences growing up that led us to pull away from the church and question if this was real," he says.
Then, four years ago, their marriage was on the brink of dissolving. Sattin decided to attend a service at Manna Church in Fayetteville, North Carolina, and felt a tugging at her heart. She convinced Mike to join her the following Sunday.
"At first, we just blended into the crowd," he says. But as the weeks passed, they got more involved. "This was a radical transformation from where we were in our marriage, in our lives, and in our beliefs. God rescued us in every way."
Yet even as they worked to rebuild their faith, their world started coming apart. Their tires needed replacing, their pipes started leaking, and their four children were having various troubles. Then their extended family fell away, and Mike lost his job. Through all the turmoil, however, the couple leaned on each other and on God.
"Prior to finding Manna, those catastrophes would have set us completely apart," says Mike, who started leading a men's small group at Manna. He loves it so much that he hopes to one day become a pastor.
"The growth in my family, my wife, and myself is nothing short of a miracle," he says. "We were headed toward absolute disaster and God intervened."
MANNA CHURCH
Fayetteville, North Carolina
Lead Pastor: Michael Fletcher
Twitter: @MPFletcher
Website: Manna.church
Founded: 1972
Affiliation: Nondenominational
Locations: 12
A 2018 OUTREACH 100 CHURCH
Attendance: 6,720
Growth in 2017: +1,213 (22%)
Fastest-Growing: 9
Largest: 76