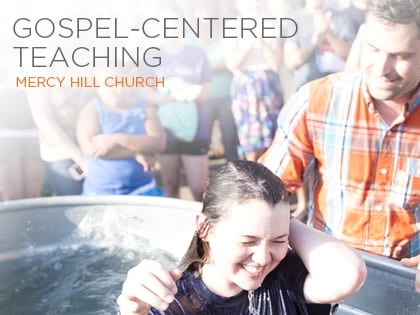 Mercy Hill Church Hones Its Message
Nate Smith's dream job had ended, and his marriage wasn't faring much better.
"Nothing was really working," says the North Carolina man, who had separated from his wife and tried marriage counseling, to no avail. "It was just a rough time in our lives."
And typically, Smith would have declined his wife's suggestion to attend Mercy Hill Church, a new church plant meeting in the pastor's backyard. Smith didn't grow up in church, but he knew enough to want to avoid it. Being in the Bible Belt, he says, the church has the reputation of "being too good for people."
But considering his plight, he gave it a shot. The gathering felt genuine, and Smith found himself looking forward to church each week. Within months, his spiritual rebirth—and marital renewal—followed. "Our marriage was going up instead of down," he says. "And everything changed."
"We believe that word of mouth is the best advertising," says Andrew Hopper. He's lead pastor of the Greensboro, N.C., church that turns three this fall, although its numbers seem to suggest a much older gathering. But it's actually Mercy Hill's gospel-centric message that's classic, and one of three main reasons for its growth, according to Hopper.
"We're not a super unique church," he says, later adding that "it's not about my sermon style."
A unit of 30 people launched from a Durham, N.C., congregation in 2012—a "great church" if you ask Hopper. Their "residency" at Summit Church is one reason for growth, and coming from a strong launch team, their core of 30 people, is another. Summit Church aims to plant 1,000 churches across the world within 40 years.
But in an area where church can seem like a part of the culture, Mercy Hill heralds the gospel—not just for salvation, but also for sanctification, that next step on how to grow as a believer.
Hopper "ties everything back to what Jesus did for us," Smith says.
Hopper mentions famed preacher Charles Spurgeon's practice of "plowing a trough back to the gospel" in every sermon. "It's more about trying to preach Jesus as a motivation for godliness," Hopper says.
Take lying, for example. Say someone has come to Jesus for salvation, but still struggles telling tall tales. The emphasis often, at least in the South, is that lying "won't please God," and that "if I'm not godly, I won't be accepted." But condemnation and rejection can make matters worse. People resolve: "I'm going to really, really, really try hard," according to Hopper.
When it comes to godliness, he thinks love motivates better than fear, and that's what Christians hear from Mercy Hill's gospel-centered teachings.
When considering a Christian who lies, Hopper thinks that the person is already accepted. He says what he believes to be God's view: "You're as honest as you can be; you're as perfect as my Son." With the gospel-centered view, people learn that their good-standing with God is rock-solid. "God has already accepted you," Hopper says.
In the land of see-a-church-at-every-turn, Smith knows that locals can grow hardened to the gospel message. But at Mercy Hill, the message of Jesus' work struck Smith as unique. "It just gripped," he says. "They were really good at sharing that."
MERCY HILL CHURCH
Greensboro, N.C.
Senior Pastor: Andrew Hopper
Twitter: @AndrewPHopper
Website: MercyHillGSO.com
Founded: 2012
Affiliation: Southern Baptist
Locations: 1
A 2015 OUTREACH 100 CHURCH
Attendance: 1,013
Growth in 2014: +630 (165%)
Fastest-Growing: 11