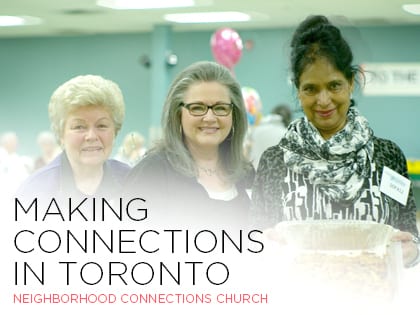 A Downtown Toronto Ministry Grows Organically Into a Church
For 10 years, members of Rexdale Alliance Church in downtown Toronto provided a variety of outreach ministries by offering clothes, haircuts and meals to community members. Then several years ago, the lead pastor began adding messages to the Tuesday lunch program.
"It grew organically into this amoeba kind of thing that was alive and moving but required direction," says David Lewis, who was asked to head up the Neighbourhood Connections ministry in 2013. During a remote fishing trip, it suddenly dawned on Lewis that his ministry had morphed into a church.
Hence, a church within a church was born. Now in his seventh year of pastoring, Lewis says that the creation of Neighbourhood Connections Church had God's hand all over it.
"It doesn't resemble a normal church," says Lewis, who appreciates the congregation's diversity. Some members are addicts. Some suffer mental illness.
Most struggle financially.
"God's favorite people were the poor, broken and disenfranchised," says Lewis. "I love that nobody here hides their troubles. We don't judge. We're family."
Tuesday services start with coffee and fellowship at 11:15 a.m., followed by lunch, music and the message.
Weekly attendance hovers around 100, but Lewis says that the congregation is growing in faith as members take ownership of their church. They've developed the hospitality team and have plans to create men's groups, discipleship teams and Bible-based childcare.
In addition, the church recently invited a licensed nutritionist to share healthy and economical eating tips with the congregation once a month. Lewis hopes that this "Fish Program" will help break the cycle of poverty by teaching members how to "fish for a lifetime."
Lewis says the key to building and maintaining any good church is to remain God-focused. "It's when human agenda, pride and ego get in the way that the wheels come off the bus," says Lewis. "We must have the humility to say, 'Lead us.'"