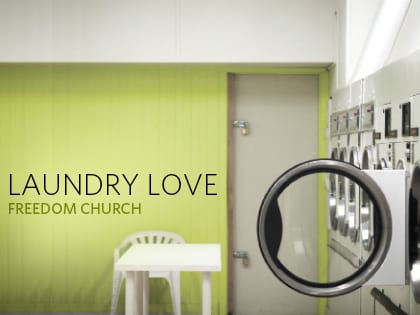 Freedom Church in California Makes a Local Impact in a Laundromat
"If I had clean clothes people might treat me as a human being"—a simple statement from a homeless gentleman living in Ventura, Calif., was the spark that started Laundry Love, a nationwide movement of groups—some church-based—that commit to washing loads of clothes for neighbors at a local Laundromat. This "modern-day foot washing," as it has been called, is a ministry any church can do to create lasting relationships with people in the community.
Justice Coleman, lead pastor of Freedom Church in Chatsworth, Calif., reversed the process—instead of starting the ministry within the church, he planted a church out of his Laundry Love ministry. Once a month, the group of non-Christian friends he was leading in a Bible study hung out at a local Laundromat, paying for loads and making friends. After eight months, the Laundry Love patrons were asking Coleman and his wife when they would start a church. When they launched Freedom Church on Easter Sunday, they already had enough friends from the community to fill the service.
The most important thing to remember, Coleman says to churches starting their own Laundry Love ministry, is to "go into it with a no-strings-attached attitude." He says, "You have to decide to do this whether or not people come to church, because if you come in with an agenda, it's a huge turnoff."
Want to start your own Laundry Love in your church's community? Here are a few more tips from Coleman and the Laundry Love Guide:
Look for a laundry location near an apartment complex, shelter or motel. Coleman suggests passing out flyers (without the church logo, but with all other necessary info) advertising free laundry to residents.
When you pitch your idea to a Laundromat owner, explain to them the benefits of Laundry Love. Your monthly session should be during a slow time, thus bringing in extra income; also, it will elevate their business's reputation in the community. "I wish I would have known [when I started] how important the relationship with the Laundromat owner was … it's vital," says Coleman.
Recruit volunteers. A group of four to 10 volunteers is recommended for a Laundry Love location.
Be prepared. Your group will need pens and paper to keep a log of how many loads done, guests served and money spent; detergent and dryer sheets; lots of quarters!
A session at the Laundromat typically lasts two to three hours. Be sure to start and end on time out of respect for the Laundromat owner and staff.
Respect privacy. Let participants load their own laundry into machines, but have your team administer quarters as necessary.
Consistency is key. Go at the same time every month in order to build relationships with patrons. "Just showing up and putting quarters in machines," says Coleman, "is just a handout."
Make it a party. Offer coffee, cookies, water, coloring books for the kids and play upbeat music.
Be creative in raising funds for Laundry Love. Some churches purchase gumball machines and get permission to place them in local businesses; the upfront investment pays off with consistent funding.
For more ideas, tips and answers to frequently asked questions, download the Laundry Love Guide at LaundryLove.org or watch Freedom Church's training video here.
FREEDOM CHURCH
Chatsworth, Calif.
Senior Pastor: Justice Coleman
Twitter: @JusticeColeman
Website: Freedom.Church
Founded: 2011
Affiliation: The Foursquare Church
Attendance: 500