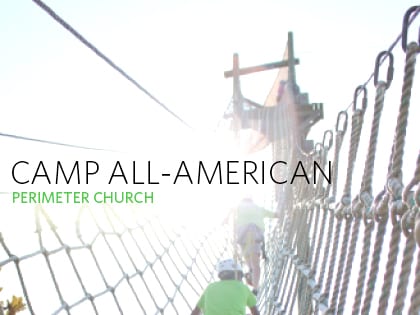 Perimeter Church Connects With the Community Through an Onsite Kids Camp
Shelley Pitts passed Perimeter Church bemoaning the "church people" driving en masse from the Johns Creek, Ga., sanctuary. They crowded traffic. Pitts had errands.
But that's when her daughter asked why they themselves didn't attend church. Emma Rose had wanted to ever since attending Perimeter's summer camp.
"So we went to church the next week," Pitts says.
"It is a significant outreach," says Stephen Ready, Camp All-American's director.
Only about half of their 9,000 campers claim a church home, but after camp, many unchurched attend Perimeter, according to Ready.
When they hear of Perimeter, nonchurchgoers in the community think of camp—and it's an overwhelmingly positive response, according to Ready.
Campers play in grassy fields as helmet-wearing youngsters glide 60 feet overhead across zip lines. The roughly 6,000-attendee church sits on 100 acres with ball fields, a swimming pool and vast woodland.
Zoom in to see one pint-sized boy gazing upward with his fists on his hips, elbows out. He's in superhero training class, and all activities, from dodge ball to Bible time, are fun.
"From a kid's perspective, that's number one," Ready says.
Parents in the affluent community prioritize quality. They praise Camp All-American's excellent facilities in postcamp feedback, and mention top-notch staff.
Camp leaders learned the hard way. Commitment problems arose when they hired people who just wanted a summer job, but called in sick or acted ungodly. "So we had to get really strategic and selective," Ready says.
They also needed smaller groupings as "sweaty backpack syndrome" struck Camp All-American. According to one parent, a camper was just another "sweaty backpack" in a sea of kids. Leaders responded, dividing groups of campers into smaller gatherings.
But size is a newer concern. Perimeter tried to reach single moms with the camp's 1989 debut. Early sessions held about 30 campers who shot hoops in the pastor's backyard.
But numbers stretched to about 2,000 campers after leaders widened their focus to include the whole community. Numbers then doubled, reaching about 4,500 after leaders added unique programs.
"That really was a big turning point," Ready says. Rock climbing towers, archery, canoeing and ropes courses set apart Camp All-American from a myriad of summer options. "Distinguish yourself," Ready advises.
Churches starting a camp should aim for excellence over size, and determine how they'll maintain quality, according to Ready.
Camp also needs its own leader, he says. No tagging on duties to an already busy employee.
That focused care plus congregational support are key, according to Ready. And he's talking moral, not financial support. Proceeds from Camp All-American fully fund camp, its full-time staff and employee benefits.
But young ministries may struggle with numbers because campers mostly attend from word-of-mouth advertisement. It takes time for word to spread, cautions Ready.
But when it does, it reaches the unreached. "It's a very positive thing for families around here," he says.
Pitts, a new-to-town working mother, just needed a safe place for her daughter. But finding camp meant finding faith again. "God brought me back," she says.
PERIMETER CHURCH
Johns Creek, Ga.
Senior Pastor: Randy Pope
Twitter: @PerimeterATL
Website: Perimeter.org
Founded: 1977
Affiliation: Presbyterian Church (U.S.A.)
Attendance: 6,000