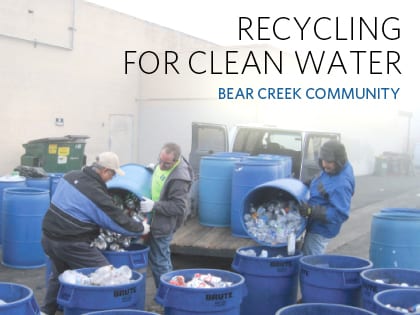 Bear Creek Community Church Uses Ongoing Community Recycling Project to Fund Clean Drinking Water
One in 6 people in the world live without access to clean water, so when the members of Bear Creek Community Church in Lodi, Calif., felt moved to create an outreach ministry in April 2009, they opted to drill clean drinking water wells in developing countries. Ann Pacheco, director of children's ministries, headed the initiative called Bear Creek Water (BCW). The church, where average weekend attendance hovers around 1,000, partnered with Living Water International to drill the wells.
The team reflected on how they could ask people for the least, to do the most good. The answer: garbage.
"Initially, it was like, 'Really? We're going to collect people's garbage?'" says Pacheco. "But it's a practical way to make money."
Instead of requiring people to drop off their recyclables, the church goes to them in the form of large buckets and barrels branded with Bear Creek's logo and clean water statistics, and placed in schools, businesses and other churches around town. BCW makes the rounds and picks up the recycling regularly.
Jaime Harden, owner of Impact Sports Center in Lodi, is happy to donate the gym's recycling to BCW. "It's a ministry from the heart that speaks to the kids," says Harden. "It's not only saving the environment but also saving lives."
A team from the church mans the onsite recycling center where community members can drop off their bottles and cans. The team then unloads, smashes and separates materials into barrels.
"Recycling is a humbling experience," says Pacheco. "There's nothing glamorous about it."
She says the most difficult part of the ministry is maintaining momentum. "When a project is exciting and new, it's easy to get people on board," she says. "But with any long-term endeavor, you have to generate creative ideas to keep the vision alive."
Pacheco suggests that churches interested in developing a similar ministry start by assembling a core team of people who are passionate about the mission. "That passion is going to surpass any stumbling blocks you may encounter," she says.
Next, consider: 1) Where will you get your recycling materials? 2) Do you know someone with a truck and trailer who can haul materials to the recycler? 3) Do you have people devoted to the cause?
Bear Creek Community Church takes in an average of $500 in recycling each week, and every dime they raise goes toward drilling wells. When they needed to find a way to cover their overhead—which includes the purchase of washable gloves, garbage bags, gas and repairs for the van—they chose to sell cases of bottled water; the perfect item considering the ministry's mission.
To date, 70 wells have been drilled in Namibia, Peru, Ghana, Haiti, Ethiopia, Liberia, El Salvador and 11 other countries. Not only has BCW's recycling program brought clean water to almost 50,000 people thus far, but the program has also been reproduced in other California churches, including Westgate Church in San Jose, Temple Baptist Church in Lodi, and Quail Lakes Baptist Church in Stockton. "Our goal has always been to replicate our ministry for others to follow," says Pacheco. "We can only do so much, but if a thousand churches did the same—think of the impact then."
BEAR CREEK COMMUNITY CHURCH
Lodi, Calif.
Senior Pastor: Bill Cummins
Twitter: @BillCummins
Website: BearCreekChurch.com
Founded: 1989
Affiliation: Nondenominational
Attendance: 1,000