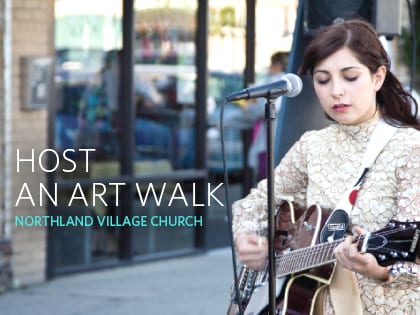 Nortland Village Church Taps Their Los Angeles Neighborhood's Creativity by Hosting an Annual Art Walk
Years ago, Los Angeles resident Don Nocon worked as an assistant pastor. But over time, his passion to serve God faded.
"I got kinda disillusioned," says Nocon, who now works as a Starbucks manager. "Not too much with God and my own personal walk, but just the way I related to church. I was walking away because I didn't know if church could be a place that was safe for me."
But a few years ago, Nocon was introduced to Pastor Nick Warnes of Northland Village Church through the Atwater Art Walk, an annual event the church organizes, showcasing local artists along a Bohemian strip of shops in its artsy LA neighborhood of Atwater Village in a way that brings the community together.
Nocon entered his photography and ended up winning first place. He and Warnes talked, and over time Nocon began to attend Northland. Now he helps oversee the 5-year-old festival, held every June.
For Warnes, the art walk is about joining the diverse community around the church—gentrifying neighborhoods with a mix of white, Latino and "super-dechurched" residents, many of whom work in the film industry.
"Remember that God loves your neighbors, not just people in your church," Warnes says, adding that they launched the art walk without telling anyone the organizer was a church. Over time, word got out, and now residents boast about it.
"We have earned trust in the community," says Warnes. "People aren't cynical about the art walk like they are about church. They say, 'We have a church that is doing this—isn't it incredible?'"
Adds Nocon: "People flip out that it's a church that puts it on. They ask, 'You guys don't want anything?' … It's great to experience people change their views on what a church is and what a church can be."
Northland decided on the art walk because the congregation at the 5-year-old church, which averages about 50 people on weekends, included many involved in the visual arts. Warnes says launching a successful outreach project requires discerning the community's personality.
Its first year, the church applied for grants to help fund the art walk, start an event website and offer prizes. Northland also partnered with a handful of businesses along Glendale Boulevard to showcase the pieces. It required hard work, securing volunteers and trust.
"It's a big faith exercise," Warnes says. "You wonder, 'Is this going to work?' But everyone chipped in, social networking got us some press and it took off."
Over the years, more artists applied, and additional businesses and volunteers joined. This summer, hundreds of photos, paintings and sculptures will be entered, and the event will attract thousands to Atwater Village.
Northland doesn't stop at art, either. Tapping into the area's emerging affinity for microbrews, Warnes helps organize beer tastings that include a gospel message, and recently launched a home-brew competition (NeBrewComp.com).
"Our mission is about creating spaces for relationships," says Warnes, co-editor of the book Starting Missional Churches: Life with God in the Neighborhood. "Our mission is to create those spaces and trust that God is going to show up and do what God does through reconciliation."
NORTHLAND VILLAGE CHURCH
Atwater Village, Calif.
Senior Pastor: Nick Warnes
Twitter: @NickWarnes
Website: NorthlandVillageChurch.com
Founded: 2010
Affiliation: Presbyterian Church (U.S.A.)
Attendance: 50