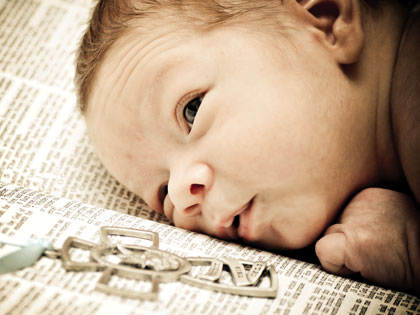 Seniors serve as mentors for expectant young couples.
Retired teacher Sharyn Dooley is 69, her two children are in their 40s and her eight grandchildren range in age from 10 to 23. So while she loves to bond with young people and has spent her life doing so, those days are less frequent.
Until now.
As a member of the Alpha Ministry for seniors at First Baptist Richardson, in Richardson, Texas, Dooley has been able to experience the joys of pregnancy and early motherhood all over again.
The program connects young pregnant couples with retired church volunteers who teach them how to use equipment that allows the parents to bond with their unborn child through a band equipped with microphones and speakers wrapped around the mother's belly.
The expectant parents read Bible stories, pray and play music for the child in utero. Their senior mentor teaches them about the equipment, then calls to check on them during and after the pregnancy.
"One of the things that is so exciting about this experience is that I got to kind of relive that excitement of a new creation of God, and then I was able to be involved in their life at that time," Dooley says.
In return, Dooley says, she believes she imparted wisdom and love toward the young couple.
The church, which averages 1,600 people on weekends, ensures its seniors can participate in all outreach efforts, says Senior Adult Minister Gerald Ware.
"Seniors have so much to offer, so much knowledge," Ware says.
The Alpha Ministry launched last year, and so far three expectant couples have participated, with several more already signed up. Even couples from other churches have expressed interest. As the program grows, First Baptist has an army of volunteers waiting to help, he says.
"A lot of the seniors who are retiring come to me saying, 'Gerald, I really want something to do; plug me in," he says. "This is a win-win."