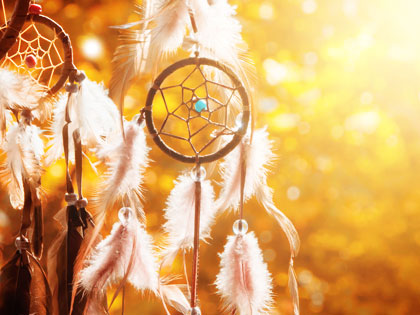 A Minneapolis church incorporates Native American culture into an Episcopal church to reach the native population.
In the 19th century, Christian outreach to Native Americans often included attempts to assimilate the "savages" into White Anglo-Saxon culture, with changes of tradition taking priority over changes of heart.
Today, All Saints' Episcopal Indian Mission in Minneapolis, Minn., is taking a different approach—creating a fusion of time-honored Christian worship and Native American customs and decor.
Every Sunday 12-30 Native Americans attend service where, instead of pews, they sit in a circle.
"We start our services with the Gathering Prayer," says the Rev. Robert Two Bulls, the vicar at the church. "We place the gospel at the center of the sacred circle."
In addition to a modified or "inculturated" liturgy, services might include Scripture readings or hymns in Chippewa or Dakota languages and the occasional use of native drums. The sanctuary is decorated with tall white pine ceilings, Chippewa floral designs, a large mural highlighting native dress and teepees and stained glass with animal symbols and a cross. A star quilt, a symbol of honor and new beginnings, drapes over the altar.
But according to Two Bulls, it's the presence of other Native Americans that makes the largest difference.
"When people come in and see a predominantly native congregation and the priest is native, that brings a lot of comfort," Two Bulls says.
Every Sunday night since 2009, the church has also operated First Nations Kitchen, providing food for 80-90 people, native and otherwise. The meals are traditional organic fare of buffalo, turkey and walleye served with corn, beans or squash. In a sit-down environment where people relax while being served, good conversations are inevitable, and the homeless and working poor go home with extra food.
"A couple meals through the week get them through," Two Bulls says. "But they come back for both the food and the fellowship."