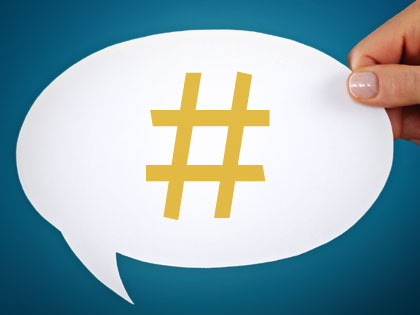 Hashtags can be an effective tool for spreading the word about your church, if used strategically.
Hashtags are a great way to create buzz and encourage people to share within their social networks what's happening at church. When their friends and followers curiously click these automatically generated links, it connects them to everything you and other users have posted related to that tag. This gets really neat when users tag event photos, sermon points and videos from your ministry. Here are eight helpful hashtag tips.
USE AN OVERALL HASHTAG FOR YOUR MINISTRY.
This can be an abbreviation of your name—#CPChurch for CenterPoint Church or #FBOrlando for First Baptist Orlando. Since many churches prefer to be included in posts as their actual username (such as @PiedmontChapel), many will promote a tag that expresses a phrase unique to their ministry.
USE A HASHTAG FOR YOUR SERIES.
Hashtags can be extremely beneficial before, during and after a sermon series. Include a tag that's unique to the series in all of your promotions to create anticipation. Have users respond to your questions or even ask their own questions related to your series with it. After your series, use your tag to promote sermon audio/video being available online. You can even ask your audience to use the tag as they post photos of how they're applying your message throughout the week.
PROMOTE EVERYWHERE
Include it in all of your printed materials, social network posts and Sunday slides. Encourage your audience to interact with your messages and promote events with them. Express how it can inspire others to get plugged in to your church. Like many aspects of Sunday morning, if you're excited about it, your congregation will be, too.
RESEARCH BEFORE USING NEW HASHTAGS.
Always make sure your desired tag hasn't already been used by someone else. Also be sure to ask a few people to proofread your abbreviations to ensure it doesn't communicate anything other than what you have intended.
DON'T USE HASHTAGS FOR THE SAKE OF HASHTAGS.
#ThereIsNothingWorseThanReadingATweetLikeThis. Long tags do nothing but make your organization look silly. It's also important that you don't throw in random tags just for the sake of using them. Unless you legitimately plan for many users in your church to use your hashtag, just leave them out of your posts.
DON'T PROMOTE TOO MANY.
Too many hashtags will kill the excitement of the significant ones. It would be much more beneficial to have your congregation use one central tag in their social posts than promoting 10 of them every Sunday.
DON'T USE HASHTAGS FOR DETAILS.
#FridayAtEight, #elevenOclock, and #DressCasual not only look silly—they're details that will be overlooked. People look to hashtags for trends, not instructions. If you've got important details that you need to share in your posts, link to a website instead.
DON'T USE SYMBOLS OR PUNCTUATION.
This is a rookie mistake that can ruin everything. Commas, periods, exclamation points, question marks and apostrophes are out. Forget about asterisks, ampersands or any other special characters. As a basic precaution, always do a test run of your tag before promoting it on printed and projected materials.
—Kendall Connor, TheCreativePastor.com