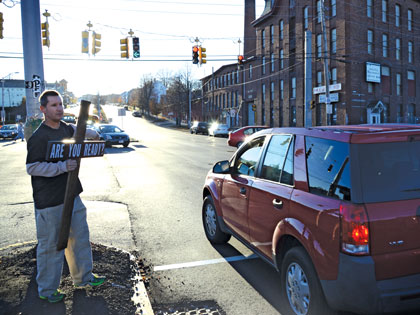 A secular Massachusetts town finds redemption.
Pastor Tom Cabral planted Redemption Fellowship nearly two years ago in a storefront that used to house a notorious pub, in a city with one of the highest crime rates in the nation.
Fall River—once a booming Massachusetts mill town—is now home to many homeless, and single parents, and folks struggling with addiction. It's a secular, blue-collar, increasingly diverse community in one of the most post-Christian regions of the country.
But Cabral, who launched the Southern Baptist church with a dozen people in attendance, now welcomes an average of 75 churchgoers on Sundays, growth he attributes to "getting the church out of the church."
Redemption Fellowship holds vacation Bible school and Easter egg hunts in neighborhood parks. Baptisms take place along the bay shore. Halloween includes a "Hayride in the 'Hood," complete with horse-drawn carriages and candy. Christmastime means singing hymns at nursing homes.
"We are visibly representing Christ in our love toward the community," Cabral says.
At the heart of the outreach is Cabral, who heads downtown two times a week with a large, wooden cross that says "Are you ready?" and preaches to all who will listen.
Cabral struggled with alcoholism and faithlessness in his 20s and says he relates to the broken souls in the city, where more than 97 percent of residents don't believe in Jesus.
"I look at this as a place of opportunity," Cabral says of Fall River, located about 45 minutes south of Boston. "We have a lot of work to do, but if God can save a city through a disobedient prophet like Jonah, he can do what he wants with the heart of the people of Fall River."