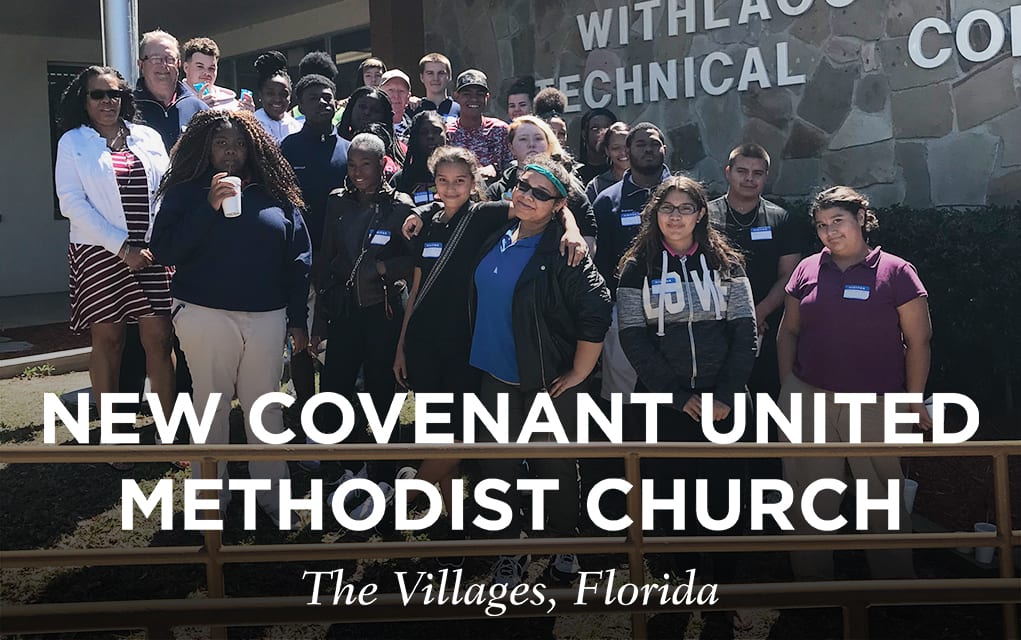 Senior Volunteers Help Connect New Covenant UMC With the Community
"Our mission is to be an externally focused church, and the Lord has blessed us with people who have the time, the energy and the resources to help serve people." That is how Senior Pastor Harold Hendren describes what is going on at New Covenant UMC located in The Villages, Florida.
The community is located northeast of Orlando and has the distinction of being one of the fastest-growing cities in America. It is also home to one of the largest retirement communities in the country with more than half of the population being over the age of 65. Hendren says, "The community had doubled in the last seven years since I've been here."
He credits much of the church's growth to its outward focus and ability to attract seniors who want to spend their retirement in active service. "We have people come to the church because they have connected with the idea that they are here to serve. When they start serving, they become ingrained in our mission."
Hendren adds that mission is to be "the hands, feet and voice of Jesus in the community," and that has nothing to do with getting more people to come to church. Many outreach projects are designed to reach out to the neighboring community of Wildwood, where nearly a quarter of the population is living at or below the poverty level. New Covenant sits less than 10 minutes from the smaller town, but is a world away in economic, ethnic and age terms.
Anne Foote Hill, New Covenant's administrative director, coordinates many of the service projects. She says that one of their most exciting is the Wildwood Middle High School mentor program. The church pairs mostly senior volunteers with at-risk students. She says they "meet once a week to encourage the students, to hold them accountable for their grades and just to be there as their personal cheerleader."
The results of this program alone have been tremendous. Hendren tells the story of a student, Mason, who was paired with Malan, a veteran and retiree. The two could not have been more opposite, but the pastor says, "Malan just took this kid under his wing, basically accepting him as his own son." The student's grades and his behavior changed.
"It's just amazing the impact those two had on each other's lives," says Foote Hill. Tragically Malan passed away. Instead of withdrawing, Mason was embraced by his mentor's small group and became an active member of the church. He now volunteers as an usher at New Covenant's satellite campus.
"It's just a wonderful success story. Mason not only became a part of Malan's family but also a part of our church family," Hendren says.
In addition to the more than 60 school mentors, New Covenant also has a program than renovates needy, Wildwood homes. They run a thrift store and donate proceeds to outside charities. The church also has a ministry called "HUGS!" that brings the church into nursing homes and assisted living facilities. New Covenant also offers a full slate of Bible studies, support groups and activities.
Hendren doesn't expect the service, activity or the growth to slow up. "I don't believe we've plateaued or even stopped. We've got a lot further to go."
The Villages community has purchased new land and is building more retirement homes. To keep in step, New Covenant has acquired new land for more satellite campuses.
"What I love about our church is that we're not afraid to take the risk to take a leap of faith and become a multisite campus church," says Hendren.
NEW COVENANT UMC
The Villages, Florida
Lead Pastor: Harold Hendren
Website: NCUMCFL.com
Founded: 2000
Affiliation: United Methodist
Locations: 2
A 2018 OUTREACH 100 CHURCH
Attendance: 3,441
Growth in 2017: +324 (10%)
Fastest-Growing: 71