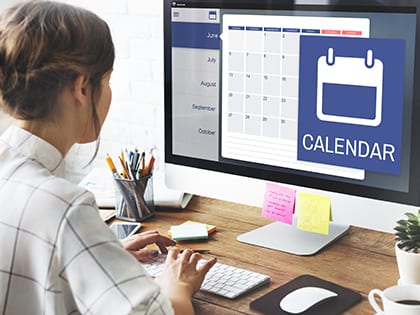 Reach more people and keep them informed about upcoming events and activities.
Your online upcoming events calendar is more than just a list of dates and times, it's an opportunity to better inform and reach the people in your community. Here's why:
1. It's good for your congregation. Your calendar provides all the information your community needs, all in one place. It makes it easy for them to be in the know. And it gives them a place to send people they invite who want more information.
2. It's good for visitors. When guests visit your site, you want them to not only find out what you're doing on Sunday mornings, but also what you're doing that's out of the ordinary. That's part of what makes your church special. Having your upcoming events listed on your site shows potential visitors that your church is an active, energetic community. Get in the mind of a potential visitor for a moment—how much easier would it be for you to attend a cookout than a Sunday morning service? Would it be less intimidating to show up at a Christmas service than a Bible study? If new people see those events listed online, they may be more willing to walk through your church's front door.
3. It optimizes your outreach. What better advertisement for the heart of your church than to show the ways in which you're serving, loving and opening your doors to others? People searching for a food drive in their community or an Easter program for kids are more likely to find your church in their internet search when those events are listed on your site.
4. It helps form partnerships. Local schools, community organizations, charities, nonprofits, even other churches, are always looking for ways to come alongside each other. Your church events are great opportunities to do just that. Having a back-to-school party at your church? Local schools can find that information online and invite their students. Doing a service project in a local park? That neighborhood's committee can point to your site for more information. Getting involved with a local nonprofit? See if another church wants to jump in with you and link to their church website on your upcoming events page.
—Samantha Decker
CloverSites.com