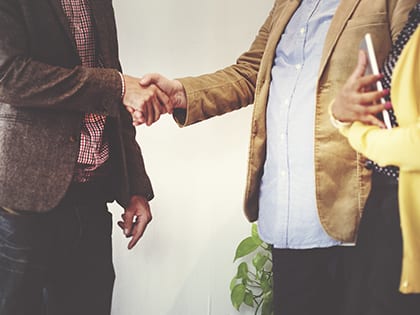 An unchurched person reports on an unannounced visit to a local church. Could it be yours?
A 30-something unchurched male visits a large church in Omaha, Nebraska, on April 16, 2017, at 9:30 a.m.
OVERALL SCORE
✭✭✭✭✩
What was it like when you entered the building?
"Welcome. Glad to have you," said the greeter who met me outside and offered me a free breakfast pizza. As I walked in, I saw a coffee stand. Inside the sanctuary, multiple people greeted me. Everyone was friendly and eager to meet me.
✭✭✭✭✭
Was it obvious where the children's ministry was located and that it was clean, secure and well-staffed?
I found information for the children and youth ministry on the website. I saw a small playground outside the church. I would feel safe leaving my children playing in the playground during church. Children would have fun and interact with other children.
✭✭✭✩✩
Did you observe anything that would lead you to believe that the church values diversity?
I didn't see anything that referred to other ethnicities or languages, nor did I see anything about the elderly. The church mentioned a program that assisted people in need with clothing, food and possibly shelter.
✭✭✭✩✩
Describe the service.
The contemporary music didn't appeal to me. The artists were sincere and they performed well. People were standing, clapping and singing. Everyone was well-engaged in the music. At the start of the service, the speaker asked everyone to meet and greet the people around them. During the service, the pastor asked if anyone was a first-time visitor. Visitor cards could be filled out to receive a free T-shirt. The 25-minute message was about Jesus and how he was crucified. I believed what was being preached and it was relevant to my beliefs. The message was given through video from another church's live service. The pastor did a good job and also made the whole crowd—including me—laugh a couple of times. He was easy to listen to and comfortable giving the sermon.
✭✭✭✩✩
Overall, how friendly would you say the church was to you during your visit?
Everyone was friendly and tried to make me feel welcome, which I did.
✭✭✭✭✭
Would you return to the church?
I would definitely attend this church again as I had a good experience and they engaged with me. Although people in their 20s and 30s would more likely attend this church, I would recommend it to people of all ages.
✭✭✭✭✭
Read more reports from church mystery visits »
Adapted from a report provided by Faith Perceptions, which sends unchurched visitors to churches across the United States to provide feedback on their experience. Visit FaithPerceptions.com.