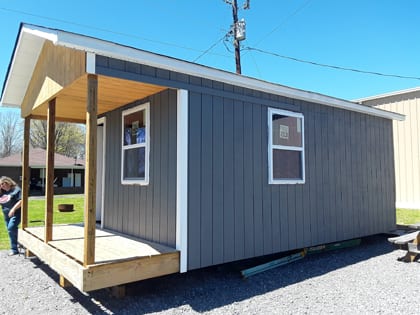 Teens at Chestua Baptist Church in Madisonville get an opportunity to bless a homeless vet in need.
The Church: Chestua Baptist Church in Madisonville, Tennessee
The Challenge: Give teens an opportunity to help someone in need.
One Big Idea: Invite the church youth group to construct a tiny house for a homeless veteran.
When Chestua Baptist Church's youth director, Clayton Taylor, met Willie Franklin, founder of the local nonprofit A Home 4 Heroes, Taylor became inspired. A Home 4 Heroes builds tiny houses for homeless and disabled veterans.
Taylor approached his 40-member youth group with the idea: Why couldn't Chestua Baptist's youth assist the charity by taking on the construction of a tiny home? The teens agreed.
"We felt led by God and believed he had given us an opportunity to help out some deserving people," Taylor says.
When Franklin heard their plan, he says he first doubted that the teens, who ranged in age from 13 to 19, could build a house. But after meeting with them, he changed his mind.
"They had so much faith in God that I knew it would happen," Franklin says.
To fund the project, the youth group raised nearly $8,000 by living in boxes outside the church for 24 hours to experience what homelessness is like. Helping the cause, local lumber companies contributed materials.
From November 2016 through April 2017, the group constructed and painted the 12-by-24-foot house, which had hardwood floors, central heating and air conditioning.
"Knowing why we were doing it and worshipping the Lord while doing it made the whole experience great," says Sarah Rayburn, age 16.
In May 2017, the church, which has approximately 125 attendees on Sundays, held a dedication service and presented the house to a homeless Vietnam veteran.
"He was crying and was so blessed," says Savannah Raby, age 18. "He just kept saying, 'Thank you.'"
Taylor says he believes more churches should reach out to local charities. "It's about getting God's name out and letting people know what a loving and gracious God we have."
CHESTUA BAPTIST CHURCH
Madisonville, Tennessee
Facebook.com/Chestua-Baptist-Church