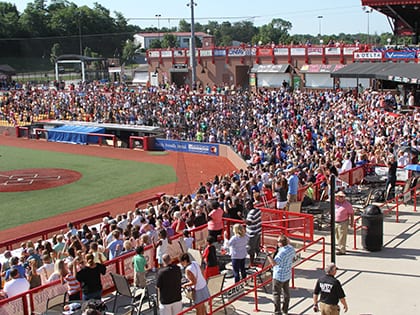 No. 56 Fastest-Growing: First Church of Christ in Kentucky Renews Its Vision to Reach the Lost
When Darin Mirante stepped in to the lead pastor role at First Church of Christ in 2016, he found that the Burlington, Kentucky, church had become complacent.
"We had lost energy and that sense of urgency to reach the lost," Mirante says. "So our biggest challenge over the past year has been to recreate that culture of urgency, to restore the reason why we as a church exist in the first place. The goal isn't just to put on church and have programs—we need to look outward, not inward."
Renewing that dedication to share the gospel with those who don't know Christ was like an injection of energy into a stale culture—and it turned out the people of First Church were primed for this revived focus.
"They were ready—they just needed a sense of direction to grab on to and leadership to point them in a purposeful direction," Mirante says. "We had some of the things in place, but now we provide easy ways to connect and be involved. We also give people a sense of ownership. It's not like, 'Hey, this one core group of people is doing this.' No, we need everyone to understand the part they can play."
As the church began to connect with the community, attendance numbers started to climb. "When you have more excitement among the people, they start to invite more people to church," Mirante says. "When you create a can't-miss-church culture, more people come. Now people are attending more consistently."
Barry and Millie Becker, who have attended First Church since 2013, lead Bible studies, work on the homeless-ministry team and volunteer in a weekly outreach to a low-income community. They believe positive word of mouth also has led more people to First Church.
"[We're excited for the church] to continue leading more people to know, worship and serve Jesus Christ by expanding and growing current and new community outreach programs," Barry says. "It's what our congregation does so well."
One popular outreach is the Whiz Kids afterschool tutoring program.
"The students who have been attending the Whiz Kids program all improved in their test scores," Millie says. "Our Union campus is looking into being able provide a Whiz Kids program for another Boone County school or even help another church start up a program."
"Half the volunteers at Whiz Kids are retirees," Mirante says. "They are a great example to the rest of us of serving and generosity. This intentional time of tutoring and relationship-building is a great bridge-builder to the community."
The church also has a strong small-groups program.
"We've seen a higher connection with small-group involvement," Mirante says. "If you are going to grow as a church, you need to be relationally connected. The more people in small groups, the more people who are going to stay at the church. We stress that it's important to be in purposeful relationships in terms of small groups."
Located 20 minutes south of Cincinnati, the church has seen an influx of young families, which has added to the rich worship experience in the church family, Mirante says. "We have a lot of people under age 40 and a lot of people over 65," he says. "Our church reflects the community."
To equip people for ministry, First Church has partnered with RightNow Media to offer an online library of more than 10,000 Bible studies and Christian training and leadership videos available to stream for free. Becoming a better leader is important to Mirante, who stresses the importance of when to say no.
"One thing that surprised me when I became pastor was how easy it is to be spread too thin in my responsibilities," he says. "I've learned the importance of narrowing my focus and helping others on the team narrow theirs for the sake of accomplishing more of what matters most—reaching others for Christ. In short, we are becoming 'efficiently urgent.'"
Read more Outreach 100 fastest-growing church profiles »
FIRST CHURCH OF CHRIST
Burlington, Kentucky
Lead Pastor: Darin Mirante
Website: FirstChurch.me
Twitter: @DMirante
Facebook: /First-Church-of-Christ
Founded: 1964
Affiliation: Independent
Locations: 2
A 2017 OUTREACH 100 CHURCH
Attendance: 2,379
Growth in 2016: +347 (17%)
Fastest-Growing: 56