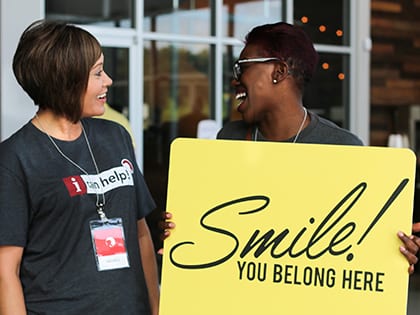 No. 13 Fastest-Growing: Relevant Church in Georgia Models Authentic Leadership
Rhiannon Bell hadn't been to church in 10 years, and her husband hadn't attended in 25 years. Growing up in churches where appearance mattered, they had become disillusioned. It felt like everyone struggled with something, but they acted like they had it all together on Sunday mornings. Then, about six years ago, their lives changed.
That's when her husband was hunting at the front of their property in the small Atlanta suburb of Stone Mountain. He heard music coming from a nearby conference center and wondered what was going on. They soon learned that Relevant Church, a brand-new church plant, was meeting there, and at the invitation of a friend, Bell decided to check it out the following Sunday.
Senior Pastor Carl Nichols was preaching on authenticity, and Bell was pleasantly surprised at the church's genuine acceptance of people and, well, the authenticity of the place. Soon, the whole family was attending, and they haven't left. She's served the church in several different roles, but now she leads the special-needs children's ministry and runs set and costume design for the preschool and elementary settings.
"I think if you can't be honest with your church family and pastor, then there's really no point," Bell says of her philosophy on church. "Facebook is pretty. I don't need church to be pretty. I need it to be real, and I need people to be honest with me. I feel like that's the community Carl has always fostered."
After 5½ years as a portable church meeting in rented spaces, Relevant built its own facility in March 2016 in the city of Locust Grove. Capitalizing on the new building, along with its existing emphasis on authenticity, has catapulted Relevant forward. That's true not only for attendance numbers, but also for church culture, leadership growth and discipleship depth.
"People don't realize how taxing setup and teardown of a portable church can be," Bell says of the 300 volunteer hours it took each month. "It becomes its own ministry, but it takes good people out of other areas. Now their time is freed up to volunteer in other ministries. Some of the greatest people who have joined the kids' ministry have moved out of that."
Because of this, Relevant's culture is shifting from one of strictly doers to one of developing leaders, as well. That includes a leadership pipeline and a national internship program for millennials—an age group that, along with their own children, has accounted for much of the church's recent growth.
"We're now able to focus on reproducing our culture rather than just showing up and being the culture," Nichols says. "And I'm working on pouring my life into smaller segments so people can then reproduce themselves in others. I won't say all of this wasn't possible when we were portable, but it was a lot harder to reproduce leaders because we were doing so much. Even our staff was more involved in doing than reproducing at the time."
Numerical growth has been a natural byproduct of creating a culture of leaders who disciple others. When Relevant moved into its new building, it was running just two services. A little over a year later, it was up to four and was packing them out.
People have responded more enthusiastically—and displayed greater commitment to the church community—since the move into the new space. When they were portable, Nichols says, they would try to hold mass baptisms and see maybe 30 people come through. It was a "slow prodding," Nichols says. Now, in the permanent building, they were recently able to baptize 144 people over two weeks.
"This has been fertile soil," Nichols says. "We've been tilling for years, and now we're seeing the fruit of that."
But he wants to be clear about one thing: A building isn't the end-all, be-all answer to prayer or the solution to every problem. Rather, it's a tool they'll be able to use to start to answer God's larger call for their church.
"As you move into a new, permanent facility, the temptation can be to think we've arrived, that we've got it," he says. "But no, we're just beginning, and our biggest struggle is going to be not to turn inward. That's part of my vision-casting platform that I constantly have to be out in front of."
Read more Outreach 100 fastest-growing church profiles »
RELEVANT CHURCH
Locust Grove, Georgia
Senior Pastor: Carl Nichols
Website: GoRelevant.com
Twitter: @CarlNichols, @GoRelevant
Facebook: /GoRelevant
Founded: 2010
Affiliation: Baptist
Locations: 1
A 2017 OUTREACH 100 CHURCH
Attendance: 1,320
Growth in 2016: +581 (79%)
Fastest Growing: 13