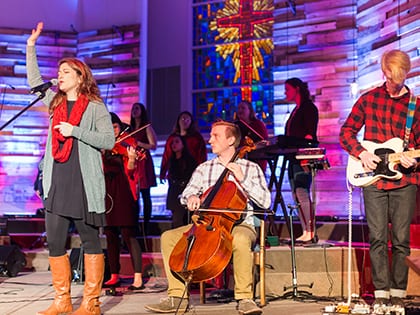 No. 37 Fastest-Growing: The Point Church in North Carolina Grows Through Rapid Multiplication
Before The Point Church in Raleigh, North Carolina, launched in September 2010, its leaders articulated a vision to plant 30 churches in 15 years in the "triangle" of Raleigh, Durham and Chapel Hill, North Carolina. Seven years later, they are well on their way.
"We wanted to have a vision so big that if God wasn't in it, it was doomed," says Lead Pastor Chris Hankins. "So, we planted our second church 18 months after our grand opening."
In February 2012, the church averaged 275 attendees and sent 50 of those to launch the new campus. They brought on a pastor they had purposefully selected because he had grown up in the area and had many established relationships there.
The decision to plant so soon was "very intentional and vision-led," says Hankins. While most churches that want to multiply wait until the first campus has grown to a fuller extent, The Point wanted to create a culture of rapidly planting smaller churches. At the time of the second church, they were in the largest movie theater in Raleigh with 500 seats.
"We didn't outgrow our current space," says Hankins, "but we did a missional church plant because we wanted to point people to Jesus in a new community, and we felt like we had the people, the right leader and the resources to do it."
Because the vision to plant was solidified early, today it's a regular part of the culture. "It cemented that we were going to be a church-planting church," Hankins says. "When we said we were going to plant our third church, no one was surprised. Instead, they asked, 'Where are we going next?'"
In year three, a church of 100 people in Cary, North Carolina, was experiencing financial hardship and talking about selling their building. The Point leaders had targeted the area because they had another 50 people making the drive from there. The existing church eventually merged with The Point, which held a new grand opening with a large marketing campaign and established its first permanent building in a perfect central location. This allowed them to begin their care center, which includes a food pantry and clothing closet that has now grown to three care centers serving 200 families weekly with two bags of groceries, a hot meal, clothes and prayer.
Because it now had a permanent facility, the church began The Point in Español, its first non-English church. In year five, The Point completed a merger with a church in South Raleigh that was in decline. Other mergers, acquisitions and foreign-language launches followed.
Hankins describes their strategy as "rapid multisite multiplication with live teaching." Currently, The Point runs 15 services weekly on nine campuses throughout the area, including the newest campus that launched in August 2017.
"If you do the math, that's less than 100 people per service," Hankins says. "It's micro-multisite, or small-church multisite. Part of the key for us is new things reach more people."
With the micro-multisite model comes the challenge of raising up sufficient leaders to serve at the various campuses, especially since there are smaller pools to draw from. At The Point, "having a leadership-development culture is nonnegotiable," Hankins says.
The Point's rapid-planting model requires a formal system in place to make sure that when the time comes for a new plant, people are ready to step up and take the reins. As a result, every leader at the church has a coach and an apprentice.
Jay Cook, the care pastor at The Point, reinforces the coaching model at leadership meetings.
"We discuss a number of topics that are not just about what we need to accomplish," Cook says. "We intentionally dive in to their relational lives, their spiritual lives and their physical and emotional lives. We talk about the whole person and don't just consider them agents to complete a task."
And according to Cook, the work pays off.
"Even though we're planting churches and multiplying, the focus is on reaching others and pointing people toward Jesus," he says. "It allows us to pursue that goal but also to cast the vision that says, 'This is why we do church.'"
Read more Outreach 100 fastest-growing church profiles »
THE POINT CHURCH
Raleigh (Cary), North Carolina
Lead Pastors: Chris Hankins
Website: PointChurch.com
Twitter: @Chris_Hankins, @PointChurch_
Facebook: /PointChurchNorthRaleigh
Founded: 2010
Affiliation: Nondenominational
Locations: 9
A 2017 OUTREACH 100 CHURCH
Attendance: 1,094
Growth in 2016: +336 (44%)
Fastest-Growing: 37