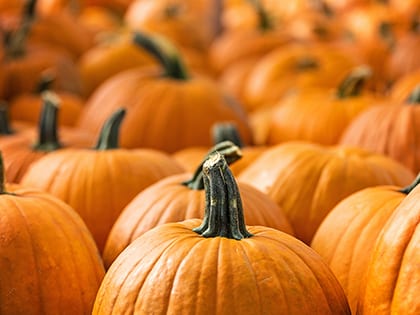 "Invite kids (and their families) to come dressed in their pajamas, and enjoy a bunch of pumpkin-related activities."
Invite kids (and their families) to come dressed in their pajamas, and enjoy a bunch of pumpkin-related activities. Here are some ideas:
Pumpkin Pie Tasting Contest: This is a great way to get the adults involved in the party. Select three judges, have them taste all the pies, and declare a winner. Serve the rest of the pies to the kids for a snack. You could even make mini pumpkin pies in muffin tins so each kid can have their own pumpkin pie.
Pumpkin-Themed Coloring Pages: Set up a table or two with coloring pages. It's a great activity for early arrivers and makes a good alternative activity if a kid needs a break or doesn't want to participate in a more boisterous game.
Pass the Pumpkin: This game is played like hot potato—but with a pumpkin.
Pumpkin-Themed Books: If you're running your party like an open house or festival-type event, set up a cozy reading corner for parents to read to their kids. Stock it with lots of pumpkin-themed books (The Pumpkin Parable, Duck and Goose Find a Pumpkin, Pumpkin Town, etc.) and have orange bean bags for them to sit on.
Pumpkin Vine Mayhem: String several pieces of green yarn through a room, over furniture, under chairs, under a book, etc. Kids start at one end of the room and follow their vine (don't let go!) until they reach the end (best for a room with two doors). Need to make it tougher? Blindfolds!
Bobbing for Pumpkins: Use those little gourd pumpkins and get the camera ready!
Guess the Pumpkin's Weight: Weigh a few different-sized pumpkins and have kids try to guess the measurements. Closest guess takes the pumpkin home. You could also have kids guess candy corn in a jar.
Hide-and-Seek Pumpkins: You can hide pumpkins ahead of time. Release the kids and watch the chaos ensue. Whoever finds the pumpkin first gets to hide it next. You could play this game with three or four small pumpkins (or those pumpkin-looking gourds) if you have a larger group.
Pin the Smile on the Pumpkin: This game never seems to get old. Draw a giant pumpkin on a piece of poster board and let the kids make him the happiest pumpkin in town.
Lindsey Whitney is the children's ministry director at East Lake Road Alliance Church in Erie, Pennsylvania, and the founder of GrowingKidsMinistry.com.