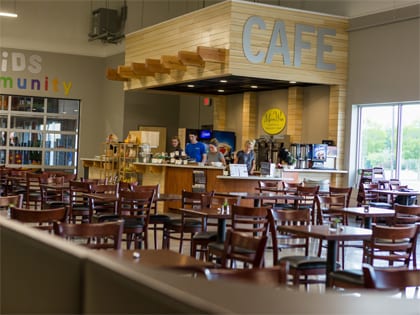 Eastpoint Christian Church in South Portland finds a practical way to be more to the city than solely a church.
The Church: Eastpoint Christian Church in South Portland, Maine
The Challenge: Find a practical way to be more to the city than solely a church.
One Big Idea: Build a community center where a church happens to meet.
Eastpoint Christian Church has a new home—in a community center.
Since its founding 12 years ago, the nondenominational church has grown steadily to a current average weekly attendance of 1,200—a surprising number considering Maine ties Vermont as the second least religious state, according to the Pew Research Center's 2016 Religious Landscape Study.
While searching for a bigger place to meet, Pastor Scott Taube and his team were inspired by 2|42 Community Church in Brighton, Michigan, which offers an array of activities and space exclusively designed for community use.
"We wanted the church to be the center of the community in a different way," Taube says. "It's where we gather and the point from where we go out."
They decided to transform an empty big-box shopping center. When Eastpoint's new location launched on Mother's Day 2017, nearly 2,500 people attended.
The 92,000-square-foot space now is home to a 1,500-seat auditorium, an indoor soccer field and gymnasium, a student ministry center, a café, classrooms, offices, conference rooms—and a church.
To bolster civic involvement at Eastpoint, Taube and his staff reached out to local nonprofits and social service agencies, offering free use of the building. They also let local businesses know that the facility is available to rent.
"It's a gift to the community that has been received super well," Taube says. "We had Hannaford Supermarket representatives visit the building, and when they heard of the nonprofits we are working with, they were really excited to do something with us.
"People don't recognize their need for community anymore. We're trying to help them rediscover what community means."
EASTPOINT CHRISTIAN CHURCH
South Portland, Maine
Eastpoint.church