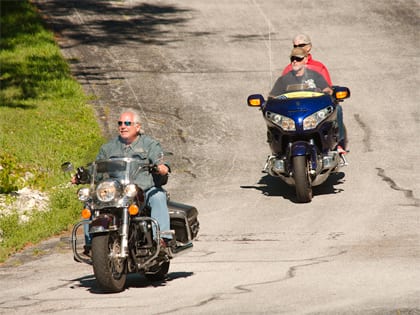 First Christian Church of East Moline rallies the congregation behind a unique outreach to the community.
The Church: First Christian Church of East Moline in East Moline, Illinois
The Challenge: Bring hope, purpose and community connections to a congregation suffering decline and discouragement.
One Big Idea: Rally the congregation behind a unique outreach to the community.
On a cool morning last June, a pack of motorcycles rumbled down the driveway of First Christian Church of East Moline in Illinois. For the second straight year, participants were leaving on a daylong ride to raise money for Helmets of Hope, First Christian's ministry to provide formerly homeless veterans with cleaning supplies for their new homes.
The event has been a boon to First Christian, generating not only money for the cause, but also engagement in the community. And year-round, Helmets has emboldened a congregation steeped in discouragement after years of membership decline. In fact, the church has given itself a new slogan: "A small church doing big things."
"We can struggle to get 20 people in worship," says Pastor Bill Coley, who has served the congregation for 32 years. "But we're doing things rather expectantly. Despite our decline, it's become evident God is just not done. Every time we think we're done, God provides."
The infusion of hope started around 2014, when a church member approached Coley about collecting toiletries for veterans coming out of homelessness. For two years, the church placed a bin in its lobby for a three-week drive. But after the second year, Coley visited one of their community partners and saw shelves overflowing with toiletries. Toothpaste was not an unmet need. But cleaning supplies were—and no one else was donating those.
The church not only switched what it was donating, but how it donated. They began creatively fundraising year-round, purchasing the items in bulk to stretch dollars further.
In addition to the motorcycle ride, they also hold a craft fair each fall, which raises more funds for Helmets and connects the church to a different demographic.
"One of the things we've struggled with over the years is getting out of our own building. We knew we would benefit from a signature ministry, but we've never had anything that distinguished and brought us into the community until now. Helmets has become that for us," says Coley.
Since the switch, Helmets has grown. Because the church continues to receive supply requests from their community partners, they recently expanded into another part of Illinois—something Coley says they never thought would be possible.
He attributes this growth to several factors. First, to a congregation that's "excited and empowered by the challenge," one that's not afraid to pitch in. Second, to keeping their eyes and ears open for signs as to where God is leading them and reminding one another of that movement when they feel discouraged. And, of course, deciding to act.
"When a door opens, you have to walk through it," Coley says. "We asked, and we found a need. Then we leveraged our resources and the gifts God has poured into our congregation to meet that need.
"For us, this has been a lifeline, a surge of confidence and hope for our future. With small numbers and a sense of decline, disappointment and disheartenment, we had to convince ourselves to step through this open door," he says. "That's hard when you're small and don't think you can do much. But through us, God has been able to do great things."
FIRST CHRISTIAN CHURCH OF EAST MOLINE
East Moline, Illinois
FCCEM.org